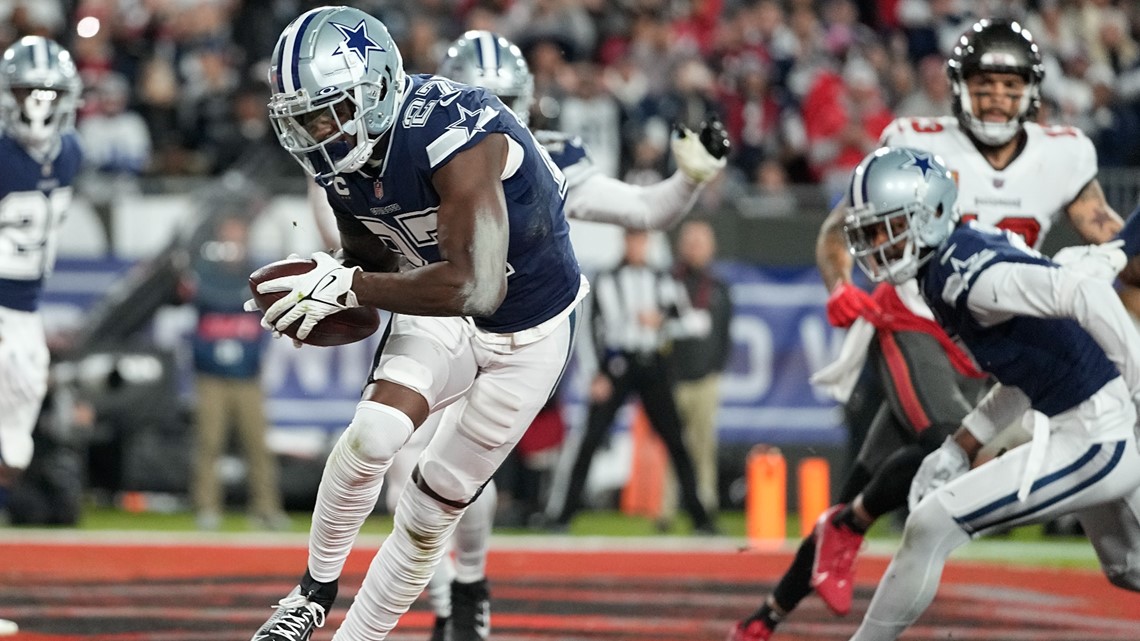 The Cowboys quarterback set a team playoff record with 11 straight completions in the first half.
TAMPA, Fla. — Dak Prescott heard you. And he's promptly shut all of you up.
Two first half touchdown passes and a 4th & goal touchdown run to lead his Dallas Cowboys to a 18-0 halftime lead on Tom Brady and the Tampa Bay Buccaneers.
A clinic of a first half from Prescott included a Cowboy postseason record 11 consecutive completions. He completed 15 of his 20 first half throws for 189 yards and two touchdowns.
The Cowboys finally got their offense rolling midway through the second quarter, on a 7-play, 80-yard touchdown drive, culminating in Dak Prescott's 22-yard touchdown pass to Dalton Schultz. A Prescott connection with Michael Gallup got the drive started, as they hooked up for a 15-yard pass on the right sideline. A roughing the passer penalty gave Dallas another 15-yard chunk. And Tony Pollard had an 18-yard carry on the drive, to get Dallas inside the Bucs 25. Two plays later, Prescott hit Schultz to give Dallas the lead.
Tampa Bay appeared to have engineered an answer, as they drove 70 yards in 14 plays, to get down to the Cowboys 5-yard line, as Brady offered a bit of Mahomesian magic, flipping the ball to Chris Godwin on a broken play, to set up 1st & Goal. But two plays later, Brady was intercepted in the back of the endzone by Jayron Kearse, ending the Tampa threat.
And then the Cowboys offense pounced on the opportunity. A methodical drive of small chunk plays. Ezekiel Elliott on a pass from Prescott for 9 yards. Elliott on a pitch from Prescott for 3 yards and a first down. Prescott to Gallup for 4 yards. Elliott for 3. Prescott to Pollard for 5. Prescott run for 3. Prescott to TY Hilton for a big 14 yards on 3rd & 8. And then the big splash – a 34-yard playaction rollout to Jake Ferguson, covering 34 yards, and getting the Cowboys to the Bucs 6. Four plays later, on 4th & Goal from the 1 yard line, Prescott faked the handoff and booted around the backside for an easy walk-in touchdown, and the Cowboys led 12-0.
After a Bucs punt on 4th & 3 in Cowboys territory drew boos from the Tampa crowd, Prescott went back to work. An 11-play, 91-yard touchdown drive that finished with a flourish, as Prescott rolled out to his left, and ranged back against his body to find a wide open Dalton Schultz in the endzone, to extend the Cowboys lead to 18-0. Prescott went 7-9 on the drive, for 85 yards.
All three of the Cowboys first point-after attempts were missed wide by Brett Maher.
The Cowboys defense shut down Brady and the Bucs offense for the entire half, holding Tampa to just 7 first downs, 120 yards, and zero points. Brady was 11-23 for 96 yards and the interception.
It was a clunky start to the game for both teams. The opening five minutes of the game featured four straight three-and-outs from the two offenses. Dallas started with three incompletions, using just 13 seconds of game time before they punted it away to the Bucs. A two-yard loss on a run and two Tom Brady incompletions later, Tampa Bay punted it right back to the Cowboys. The second Dallas possession was worse than the first, losing five yards on their second three-and-out, punting it back just 2:15 later. And the Bucs gave it right back, gaining just five yards, and punting it back to Dallas, before the Cowboys began their 80-yard march to the games first touchdown.
Tampa Bay will have the football to start the second half.