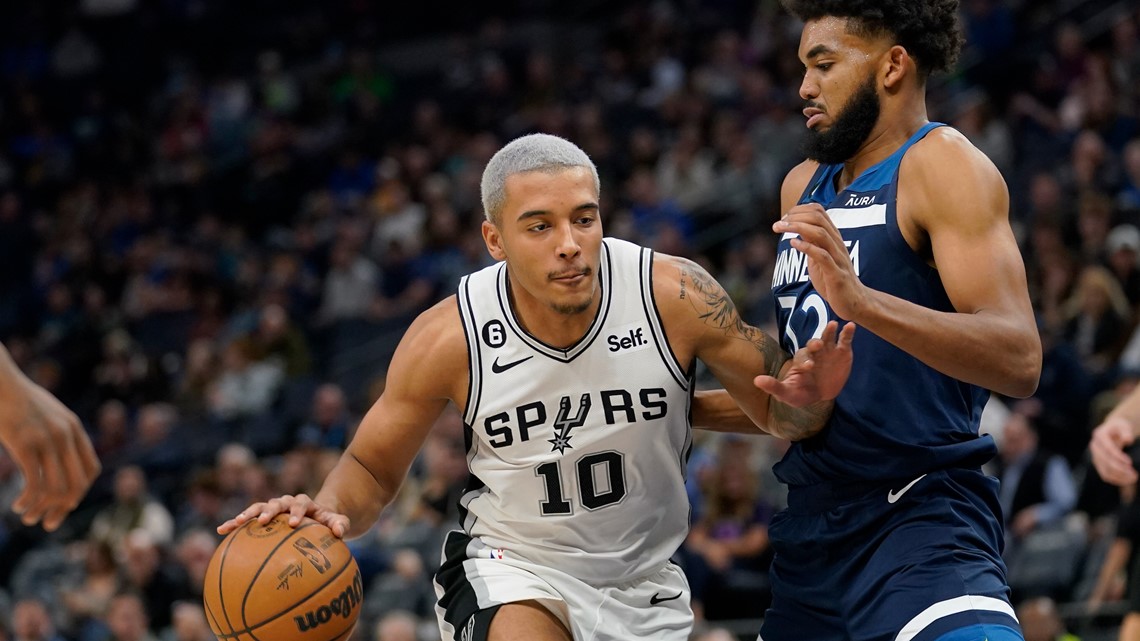 Sochan continues to troll the Lakers and the purple and gold fans had enough.
SAN ANTONIO — The Los Angeles Lakers are down 0-3 to the Denver Nuggets in the West Finals but the purple and gold fanbase rather focus on San Antonio Spurs' Jeremy Sochan.
In case you missed it, Sochan has been watching the Lakers-Nuggets series closely and has been trolling the team on Twitter.
It started when he questioned why LeBron James flops so much after the Lakers lost Game 2.
Sochan continued after the conclusion of Game 3 when he tweeted out snickering emojis following the Lakers' loss.
Now he's ticked off Lakers fans and they are calling him out on social media.
Here's a sample of Los Angeles fans taking shots at the Spurs forward:
Naturally, Spurs fans are seeing Lakers fans targeting Sochan and have come to his defense.
Here's how Silver and Black fans are reacting to the Lakers' fanbase:
Sochan definitely can get under the skin of his opponents on the court and the opposing fanbases!
When the NBA releases its 2023-24 schedule, you can bet Spurs and Lakers fans will circle on their calendars when the teams will meet.
With the Spurs landing the top spot in the 2023 NBA Draft and more than likely will select Victor Wembanyama to add to a core of Sochan, Keldon Johnson, and Devin Vassell, Lakers-Spurs games will be spicier among the two fanbases.
Perhaps Sochan's tweets will restart the Spurs-Lakers rivalry from the early 2000s making the games must-see television once again.
What do you have to say, Spurs fans? Follow us on Twitter all offseason at @KENS5 and at @JeffGSpursZone.
Original News Source

Click here for San Antonio HOA Management