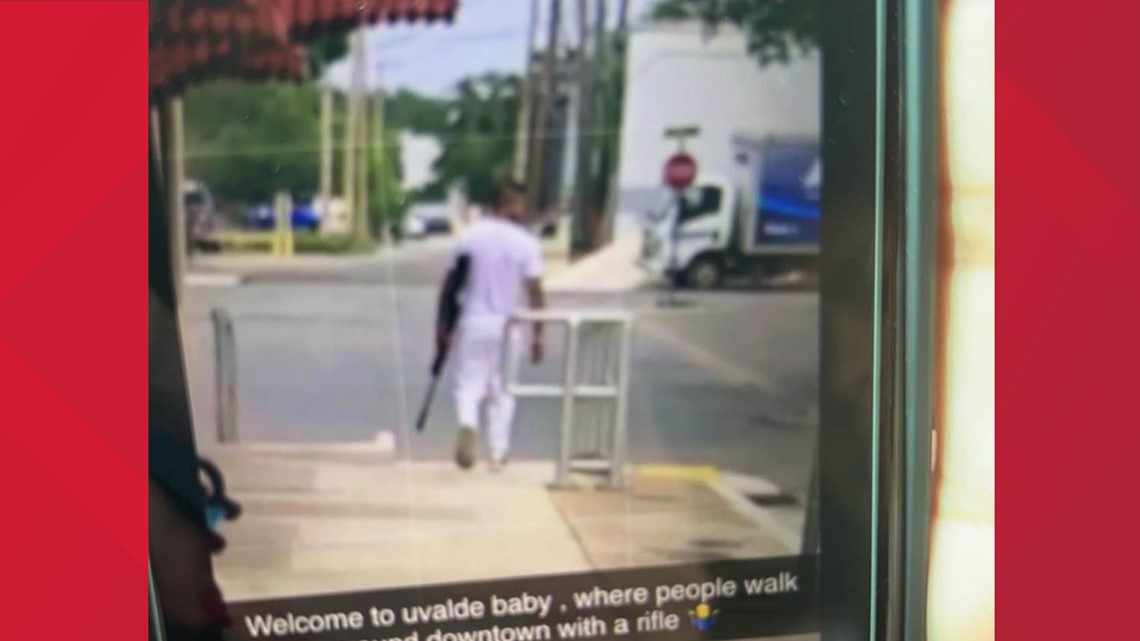 Police spoke with the man after he caused concern for some in the South Texas city.
SAN ANTONIO — Reports of a suspicious person walking in downtown Uvalde with what appeared to be a long gun caused nearby businesses and schools to be placed on lockdown Thursday afternoon.
An initial alert was shared by Emmanuel Zamora, the Uvalde County constable for Precinct 6, shortly before 5 p.m. on Facebook. According to a 5:28 p.m. update, police officers "made contact" with the man and confirmed the weapon was in fact a pellet gun.
A blurry photo shared with KENS 5 by a Uvalde resident shows a man walking around with what can be mistaken for a rifle or other long gun.
It's unknown of the unidentified man threatened anyone with the pellet gun, and it's unclear if he would have faced charges even if he were carrying a rifle, which is generally legal to do in public in the State of Texas.
>TRENDING ON KENS 5 YOUTUBE:
[embedded content]
Since going on the air in 1950, KENS 5 has strived to be the best, most trusted news and entertainment source for generations of San Antonians.
KENS 5 has brought numerous firsts to South Texas television, including being the first local station with a helicopter, the first with its own Doppler radar and the first to air a local morning news program.
Over the years, KENS 5 has worked to transform local news. Our cameras have been the lens bringing history into local viewers' homes. We're proud of our legacy as we serve San Antonians today.
Today, KENS 5 continues to set the standard in local broadcasting and is recognized by its peers for excellence and innovation. The KENS 5 News team focuses on stories that really matter to our community.
Original News Source

Running For Office? Conservative Campaign Management – Election Day Strategies!