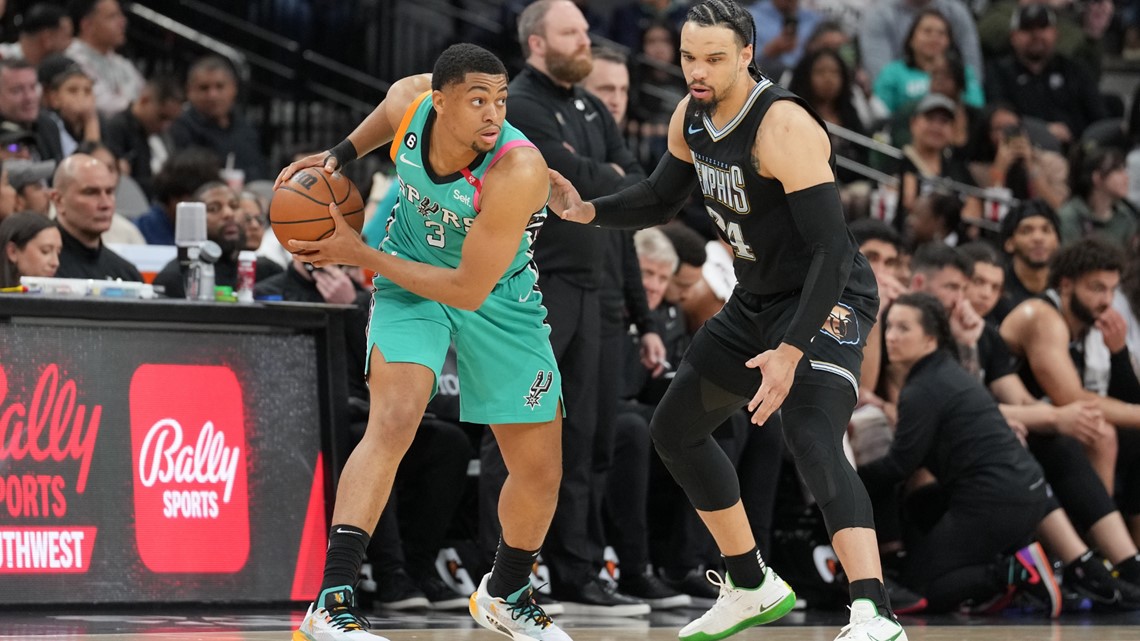 San Antonio could not hold on to a 29-point lead over Memphis, losing in overtime.
SAN ANTONIO — The San Antonio Spurs picked up a home loss in overtime versus the Memphis Grizzlies, 126-120. San Antonio blew a 29-point lead over Memphis. It was the largest comeback in Memphis' history.
Devin Vassell had 25 points and five rebounds to lead the team while Zach Collins added 24 points. Keldon Johnson finished with 21 points and four rebounds while Malaki Branham had 18 points in the loss.
San Antonio was without Jeremy Sochan who exited the game with right knee soreness and did not return.
The Spurs are now 18-52 on the season, and will next face the Atlanta Hawks and welcome back Dejounte Murray Sunday in San Antonio.
Here's a sample of what the teams said after the game courtesy of the Spurs.
"Great game. They [Spurs] learned a lot. To compete as hard as we did, I'm proud of them. They did a good job," Popovich said. "Memphis showed the experience, their talent and did a good job."
"We've been competitive all year. We shouldn't have lost that game. We were up 30 [points]. We shouldn't have lost," Collins said. "We kept taking bad shots and that put them [Memphis] in transition and we were playing on our heels for a lot of that run they made. We didn't execute as we did in the first half."
"We just got to learn how to close out a game. We were up 11 with two minutes left. Several communication things and just being able to execute down the stretch is big. I said it all year, we're a young team we got to learn but that one [loss] hurt," said Vassell. "We just got to keep playing our game. We just got to learn from it."
The first half, the Spurs were playing too freely. Give them a lot of credit. They put in a lot of confidence, they played competitively, they played unselfish, but we finally turned it around [in the] third quarter, but especially in that fourth quarter. Big-time plays down the stretch," Jenkins said. "[Dillon Brooks] with big-time shots. [Kenneth Lofton Jr.], a guy that hasn't played much for us throughout the season comes and really helps us, gives us a boost off the bench in the second half."
Original News Source

Click here for San Antonio HOA Management