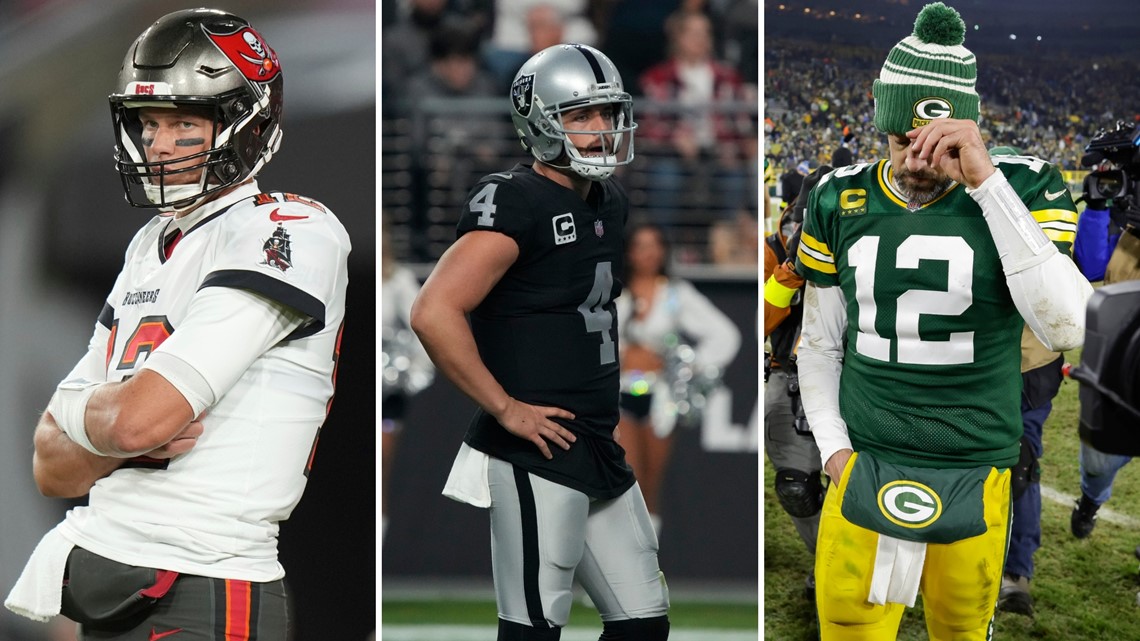 "One of those two players is going to be the Raiders quarterback in 2023. And the main reason is Las Vegas can't have a loser."
LAS VEGAS — The Las Vegas Raiders are prepared to join the QB market this offseason, with the expectation that veteran Derek Carr has played his final game in a Las Vegas uniform following a disappointing campaign.
Carr, 32 in March, posted a 60.8% completion rate with 3,522 passing yards in 2022. Both figures represent his worst mark since he was a rookie in 2014.
Diminishing success on the field, as well as a nearly $35M cap hit, make him a difficult player to trade on the open market. As such, Carr is likely to find himself on waivers in February while Mark Davis and company look for a new signal-caller.
A Raiders squad without Carr and his cap hit could be a very attractive landing spot for either Tom Brady or Aaron Rodgers – who are both available this offseason with Brady entering free agency and Rodgers expected to be available on the trade market.
"My gut feeling tells me it's going to be one of those two guys," Locked on Raiders host 'Your Boy Q' told Peter Bukowski on the Locked on Sports Today podcast. "Tom Brady makes the most sense. We already know how Tom Brady is built and I don't think he's going to return to Tampa Bay. He also just signed an endorsement deal with the Wynn in Las Vegas. That could just be a coincidence, they were working on this back in September, but it could mean something else."
Brady is only one year removed from an MVP campaign in 2021, although he showed some signs of aging in a disappointing 2022 season – leading Tampa Bay to an 8-9 record and an exit in the wild card round of the playoffs.
Rodgers is trickier to acquire, as he is owed nearly $60M in 2023 and a team would have to give up multiple draft picks to bring him onboard. However, the upside is much higher – and that's enough to convince Q to make the move.
"Personally I like the Rodgers idea a little bit better," Q continued. "I know it will cost the Raiders some draft capital and maybe even a player."
Ultimately, the bright lights of Vegas may be enough to sway one of the game's all-time greats to relocate to the desert, and regardless of who it is, it is a beneficial move for the franchise.
"One of those two players is going to be the Raiders quarterback in 2023," Q concluded. "And the main reason is Las Vegas can't have a loser."