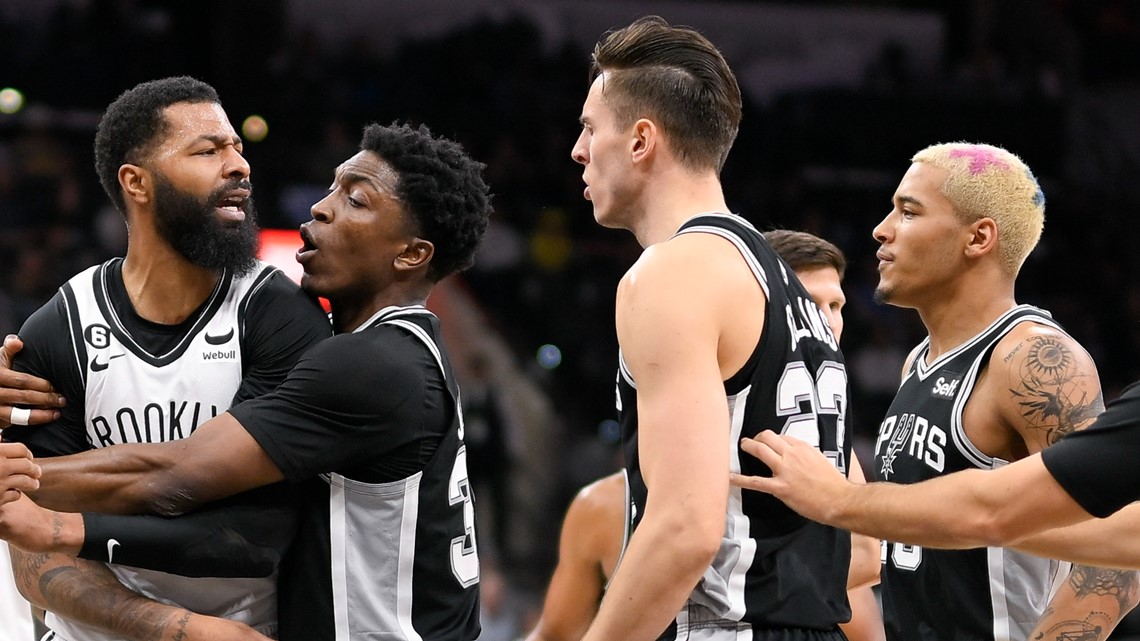 The cheeky young Spurs player is working on his game, but he already has one elite skill: annoying his opponents.
SAN ANTONIO — Spurs rookie Jeremy Sochan is working on his game, but he already has an elite skill: irritating his opponents.
A dustup with cheap-shot artist Markieff Morris is the latest example of the 19-year-old's penchant for ticking people off, but it isn't the first time and it certainly won't be the last. From actual tough guy Steven Adams to baby-faced superstar Luka Doncic, the kid has a habit of leaving his foes annoyed and perhaps a bit sore.
"I've always had that little edge," Sochan said before the draft. "I feel with that, being cheeky, maybe getting into people's spaces, can separate their games, and they can play worse. There's examples: Draymond (Green), Patrick (Beverley), Jrue (Holiday), so there's so many. I feel like I can be one of those in the next step."
Sochan became a top-10 pick in the draft mainly because of his defensive chops and versatility. The players he mentioned are all high-level defenders, but Draymond and Pat Bev in particular are also the NBA's equivalent of wrestling heels.
They talk trash, poke, prod, push, sometimes even punch. They're guys who can average 7 points per game and still provide impact and entertainment as chippy foils to some of the stars of the league.
The cheeky rook has everything it takes to be that type of player, along with a ton of potential on offense. He fears no person or situation on a basketball court. Sochan seems to relish and understand his role as an instigator, knowing exactly where the line is and tip-toeing right up to it to occupy real estate in the minds of his opponents.
Morris has been a bully in the league since Sochan was 7 years old. He still seems to have a tenuous grasp on where that line is, even after missing most of last season with an injury sustained in an altercation that he started with Nikola Jokic. Morris got into it with the rookie on Tuesday night when San Antonio hosted the Brooklyn Nets.
It started when Sochan, who isn't a great shooter at this point, knocked down a pair of triples in the middle of a 16-point first half. He started jawing at the easily-provoked Morris, who took exception. On the other end of the floor, the 33-year-old set a hard screen, or rather he stepped in, lowered his shoulder and threw his weight into the teenager to knock him over.
Sochan hit him with the Uno reverse card and bullied the bully. He grabbed onto Morris' jersey, subtly tripped him, and used his weight and momentum against him to throw him to the floor with a belly-to-belly suplex of sorts. The pair quickly stood up toward each other, exchanging not-so-pleasantries.
After the game, Morris actually admitted defeat.
"He actually did like a wrestling move on me. I said that's impressive, I told him," Morris said. "It was impressive because he used a lot of force and he kind of flipped me. He got me."
In a split second, Zach Collins inserted himself between the two before things escalated. Speaking of guys who aren't afraid of a little scrap, Collins has a low-key sandpaper element to his game. Russell Westbrook was ready to fight him after a hard foul earlier this season, and even the chillest guy in the league and possibly the world, Klay Thompson, got into it with him once upon a time. Collins doesn't back down.
"(Sochan)'s got some nasty in him, and so does Zach," said Gregg Popovich, who we all know likes some nasty. "That's necessary on any good team."
The altercation got the fans up and cheering while the officials sorted out the fouls. As the video made the rounds on social media, "he got that dog in him" was a common refrain.
"That's love. I feel like from day one, San Antonio showed me that. I'm always going to appreciate them and give love to them, too," Sochan said after the game.
This was the nastiest we've seen from Sochan midway through his first season, but he's also showed that side of himself in more subtle ways.
When the Spurs faced off against the Grizzlies, the rookie went for a classic technique against one of the scariest men in basketball. Steven Adams is an oak tree with huge arms and a demeanor that says "don't mess with me or my friends." Naturally, the rookie hit him with a purple nurple in a critical moment.
"In the last play of the game, he was messing me around… he pinched my nipple," Adams said with a laugh. "I was like, 'Get out of here, ya dirty bastard!' Trying to break my concentration."
Sochan went back to that move against an MVP candidate. Luka Doncic was in the middle of a historic heater, and the rook was trying to do anything he could to get him off his game. In the second quarter, Doncic was whining to the referee about something, and Sochan squeezed him. Luka looked genuinely shocked and perturbed, then turned to the ref with big "MOM, HE PINCHED ME" energy.
Sochan is about 6'9″ and 230 pounds with a 7-foot wingspan. He has the size and strength to bang with big men and the foot speed to guard perimeter players. That versatility is a huge asset in San Antonio's switch-heavy defense, and while the team is struggling on that end this year, it bodes well for his future.
"My mentality is to play well, but also to get into other people's heads. Be a little bit cheeky, talk to them, get them a little bit frustrated. That's the best way to get in someone's head and make their game go down," Sochan said at 17. "I like when other players talk trash to me, because it's just gonna get me more motivated for the game."
In the words of John McClane, Sochan is "a fly in the ointment, a monkey in the wrench, a pain in the ass." His opponents hate him for it as much as his teammates and fans love him for it. The 19-year-old has the potential and the desire to be much more than just annoying, but that personality trait will serve him well as he grows in his career.