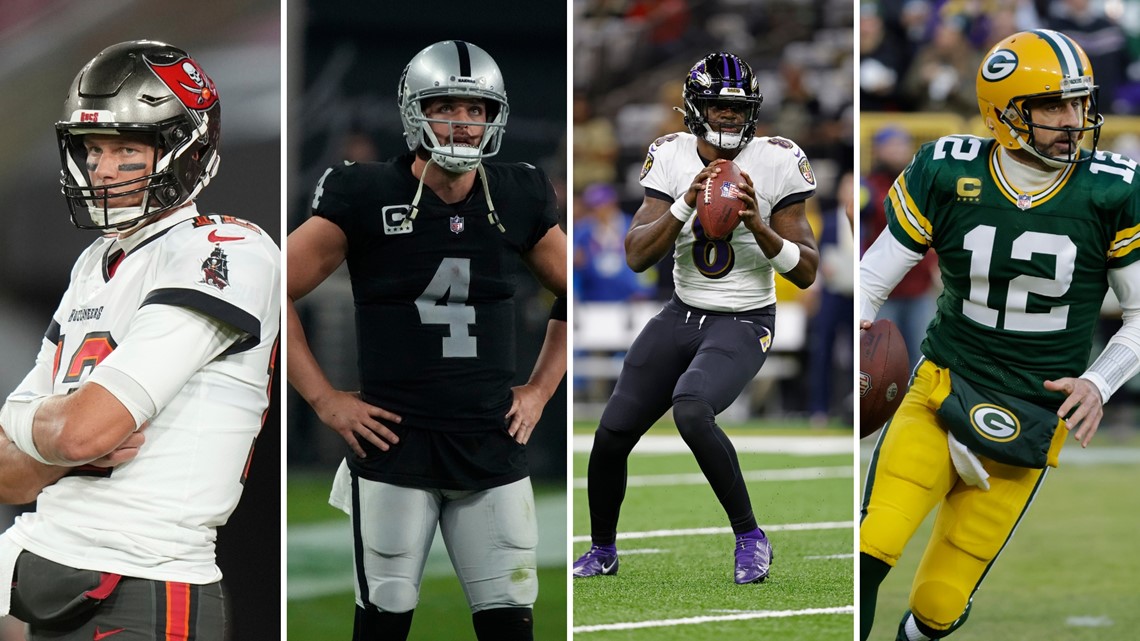 This is another big offseason for the QB carousel as names like Lamar Jackson, Derek Carr, Tom Brady and maybe even Aaron Rodgers could all be on the move.
INDIANAPOLIS — There is no position in the NFL, or perhaps all of sports, as valuable as the quarterback. A team's hopes and dreams live and die by who is under center, which makes finding the right person paramount for NFL general managers and front offices.
This year, teams in need of a new quarterback will have options galore. Tom Brady is the most high profile free agent on the market, although Aaron Rodgers and Lamar Jackson could each become available if their situations change in Green Bay and Baltimore, respectively.
Derek Carr, Jimmy Garoppolo, and Baker Mayfield are all available on the open market as well, and of course the 2023 NFL draft is around the corner with a handful of high profile quarterbacks expected to go in the first round, including Bryce Young, Will Levis, C.J. Stroud, and Anthony Richardson.
Brian Peacock and Matt Williamson attempt to rank the quarterbacks available this offseason on the latest episode of the Peacock and Williamson show. They use the Indianapolis Colts and their hunt for a quarterback as the backdrop, because they have the fourth pick in the draft which can be used in a variety of ways to potentially solve their woes under center.
For a team like Indianapolis, that has tried to plug veterans into the starting lineup basically every year since Andrew Luck retired – with little to show for it – it might be time to use a draft pick and try to get 'Lucky' once again.
"I don't think going from four to one is a bad idea at all," Williamson said. "Even if it costs next year's first or something else. It's not going to be super cheap. I think that's tremendous. I think it's a very good landing spot for a rookie quarterback."
Moving up to draft Young or Levis is likely the best move long term for a team like Indianapolis, as opposed to signing an older quarterback on the market like Brady or Carr – or a riskier option like Garoppolo or Mayfield.
Of course, Indianapolis could explore the trade market to find their next signal-caller, and using their draft capital could be enough to pull Jackson from Baltimore – a move that could immediately pay off for the Colts.
"What if Lamar Jackson were a Colt? Would they be in the playoffs right now?" Williamson continued. "A full year of Lamar, in a dome, not a real difficult division. That's not the same as Philip Rivers to me."
"A healthy Lamar Jackson for 17 games, no doubt about it," Peacock added. "The Indianapolis Colts are in the playoffs."
Indianapolis is not the only team expected to be on the hunt for a new QB this offseason. The Raiders, Texans, Saints, Bucs, Titans and Panthers could all be teams looking at QB as well.
While the NFL draft will help clear some of those concerns, this is shaping up to be an offseason littered with turnover at the league's most important position.