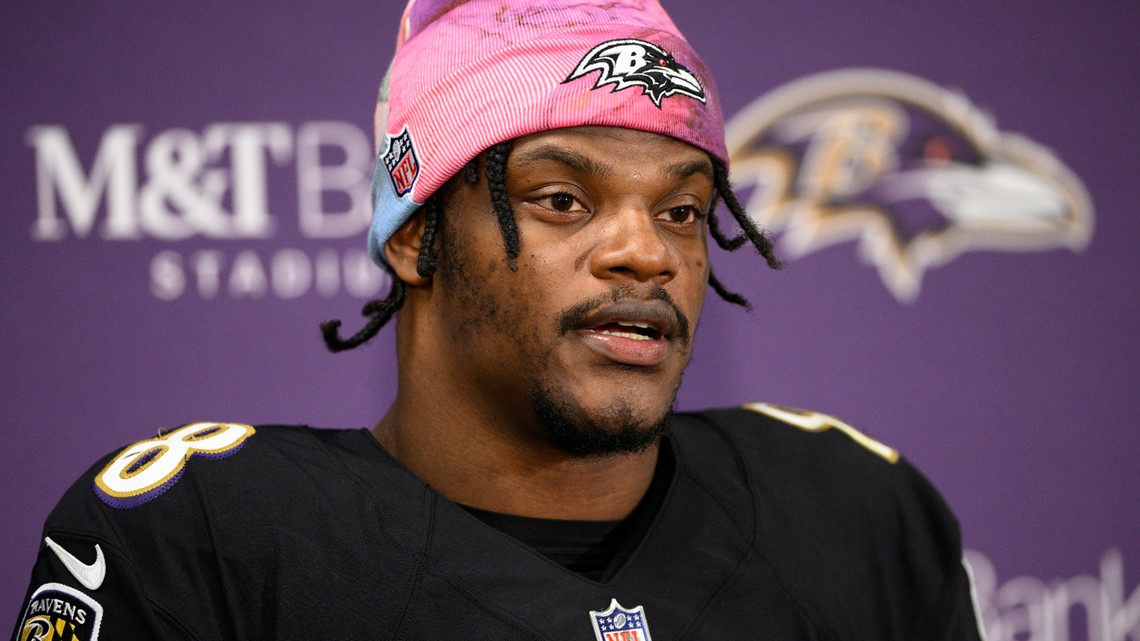 The NFL free agency period begins March 15, giving teams two weeks to determine which players they want to extend, franchise tag, or cut before it open season.
INDIANAPOLIS — The NFL free agency period begins on March 15, giving teams roughly two more weeks to determine which players they want to extend, franchise tag, or cut before it becomes open season for every GM.
This year's class lacks top tier talent, especially at wide receiver, pass rusher, and across the offensive line.
The best available free agents ultimately will heavily depend on how teams utilize the franchise tag – which will determine how many marquee quarterbacks will end up available on the open market.
NFL writer and Around the NFL podcast co-host Gregg Rosenthal took a look at the top 101 NFL free agents at this stage of the offseason, and below we highlight the top ten of what should be a very entertaining free agency period.
Baltimore seems unlikely to extend Jackson before giving him a franchise tag, but the likelihood of him actually entering free agency is slim. More than likely the Ravens will franchise tag him and either look to trade or continue to negotiate an extension for the star quarterback.
Smith broke out in a major way for Seattle in 2022, posting elite numbers and winning comeback player of the year after spending many years as a backup to Russell Wilson. The Seahawks may get a deal locked up with Smith before they even need to franchise tag him, but either way it is unlikely the veteran signal-caller will hit the open market.
Hargrave posted monster numbers in each of the last two seasons, and after getting undervalued his last go round of free agency you can bet the 30-year-old is ready to make big money this time. Philadelphia may not be the team to pony up the dough, so this could be one of the bigger free agent signings of the offseason.
High level starters along the offensive line just don't hit free agency all that often, and a 27-year-old like Brown could command big money on the open market if the Chiefs are unwilling to secure a franchise tag for the left tackle.
Jones showed what he is capable of with a very solid 2022 campaign, but his demands for upwards of $40 million annually could make his free agency a complicated one. The likeliest outcome here is a franchise tag, allowing head coach Brian Daboll one more year to see if Jones is really the guy they want to build around long term.
Carr is among the premiere veteran quarterbacks expected to be available on the open market, coming off an up-and-down 2022 season in Las Vegas. He could fit just about anywhere, making him one of the most intriguing free agents to watch as the offseason gets underway.
Gardner-Johnson is an extremely versatile, young, and hard-hitting defensive back who teams could use out of the slot or at a safety spot. Philadelphia has a lot of high level free agents to try to keep, and Gardner-Johnson could end up finding a new home where he can thrive in 2023.
Another one. Bradberry is now famous for the holding penalty on JuJu Smith-Schuster in Super Bowl LVII, but he's still one of the best corners in the NFL and will get paid like one – either by Philadelphia or someone else.
Bates played 2022 on the franchise tag and likely won't be back after the team drafted Daxton Hill to be his replacement. If a team that plays with a single-high safety is looking for an upgrade he would be an excellent addition – but the number of teams deploying that scheme is dwindling.
Barkley is clearly the top running back available on the open market, with excellent receiving ability and plenty left in the tank even if injuries have reared their ugly head over the past few years. New York will have a tough time paying both Jones and Barkley, potentially allowing him to move on from the Big Apple.