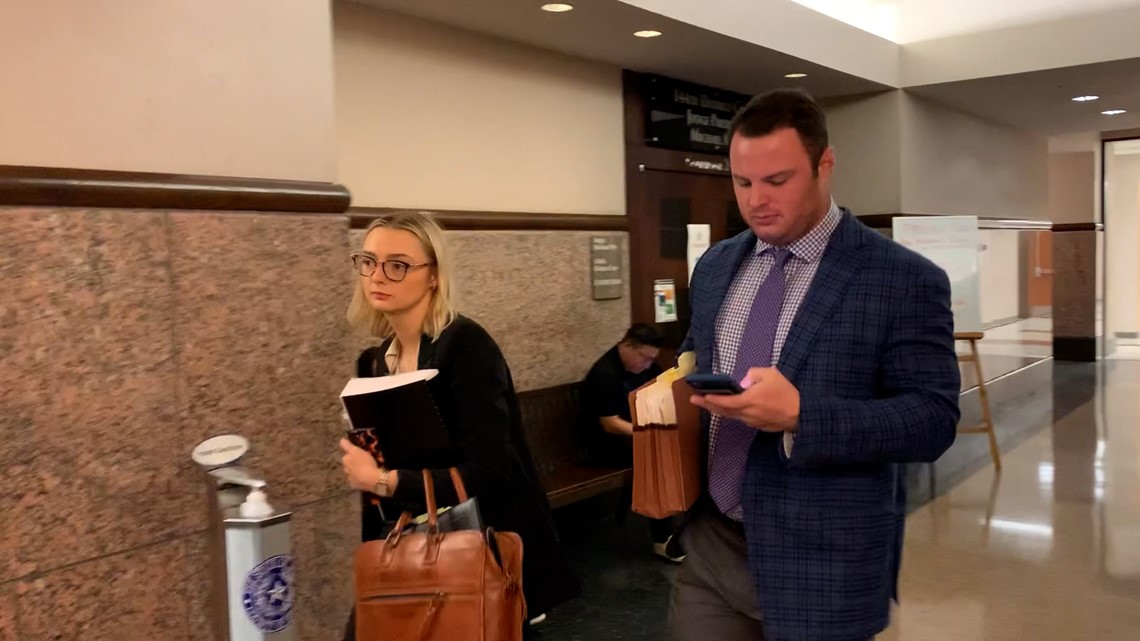 Howerton is being tried again in the murder of his ex-girlfriend, Trinity University cheerleader Cayley Mandadi.
SAN ANTONIO — Text messages between Cayley Mandadi and Mark Howerton were read aloud to jurors during testimony in Howerton's murder trial Friday.
The text messages show Howerton making suicidal threats towards Mandadi, which scared her to the point she was asking her ex-boyfriend for advice on breaking up with Howerton.
A former crime lab specialist with the Texas DPS shared testimony about findings in a sexual assault kit. Howerton is not on trial for sexual assault this time; that case is closed, according to court records. Defense attorneys disputed findings of DNA swabs collected from Mandadi.
A former Secret Service agent testified about phone records he pulled from Cayley Mandadi and Mark Howerton. In one string of consecutive messages Howerton sent to Mandadi, saying things like "you're so fake it's making me so f****** dark," "Acting like Jett [Birchum, Cayley's ex-boyfriend] was a regular guy," "fake a** b****," "I'm f****** killing myself."
Howerton would make repeated threats of killing himself in other texts.
Mandadi confided in her ex-boyfriend Jett Birchum, asking him for advice on how to end the relationship with Howerton. According to testimony, she texted Birchum on October 15, 2017.
"I need to do it in a way that he will be calm," Mandadi texted.
"If I get killed, which is honestly probable, just know I love the f*** out of you," Mandadi told Birchum.
Mandadi and Birchum's relationship
According to testimony, the last call to Mandadi's phone was not successful at 8:29pm on October 29, 2017. Birchum tried calling her twice earlier the night that witnesses saw Mandadi and Howerton leave the Mala Luna Music Festival together.
Howerton previously confessed to having "rough" sex with Mandadi that night, but said it was consensual.
Defense attorneys dove deeper into Jett Birchum's phone records, and asked the judge to admit photos which they believe is an important factor in the case, however that evidence was not allowed.
A crime lab specialist who worked with the Texas Department of Public Safety testified on certain findings from a sexual assault kit submitted by Texas Rangers.
According to the witness, DNA was detected on the left leg swab, one of only two samples where male DNA was detected. Other swabs from different areas of the body were inconclusive for male DNA. Defense attorneys asked about the difficulty in determining whose DNA it could have been.
Swabs collected in the kit include DNA swabs from Howerton, a sexual assault kit, and pieces of evidence including clothing and fingernail clippings.
Testimony in the trial is expected to continue next week.
Original News Source

Running For Office? Conservative Campaign Management – Election Day Strategies!