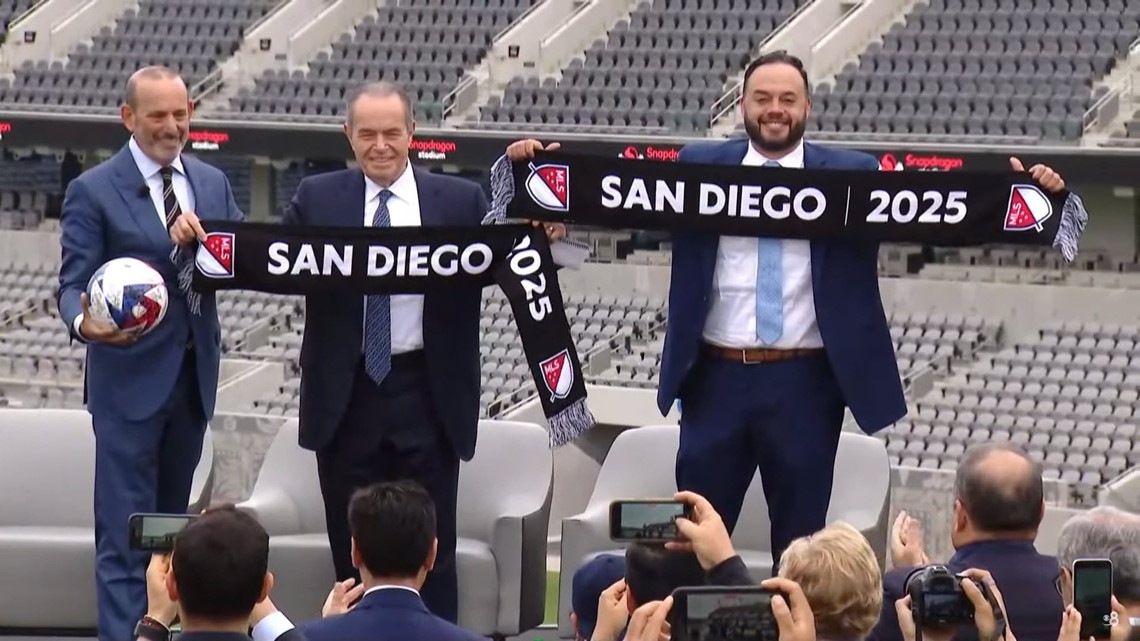 The next expansion MLS team was announced from San Diego's Snapdragon Stadium, which will host the team beginning in 2025.
SAN DIEGO — The growth of professional soccer in San Diego was revealed Thursday morning when Major League Soccer announced during a news conference at Snapdragon Stadium that an MLS team would be coming to the city.
San Diego's MLS club will be owned by Mohamed Mansour, a distinguished entrepreneur, investor, philanthropist with deep, global ties in the sport, and by the Sycuan Band of the Kumeyaay Nation. The Sycuan Tribe became the first Native American tribe to own a stake in professional soccer in the United States.
Other founding partners include Brad Termini, Co-founder of Zephyr Partners, Tom Vernon, Founder of Right to Dream, and Dan Dickinson, Board Member of Right to Dream. Highly respected sports executive Tom Penn will serve as the club's CEO.
Another big name in San Diego sports will also join the ownership group. San Diego Padres star Manny Machado spoke about how excited he is to be part of this new team joining San Diego.
"I am grateful for the opportunity to join the San Diego MLS ownership group. I continue to plant roots in this amazing community that means so much to me and build upon my connection with the incredible fans," said Machado. "I'm further encouraged by the club's commitment and experience that it brings, through Right to Dream, in developing young athletes personally, academically and athletically, and excited to support the growth of soccer in San Diego."
The new team will play in Snapdragon Stadium in 2025, a year before the United States joins Mexico and Canada in hosting the 2026 World Cup.
The team did not announce the team name at the press conference but during a post-event interview with CBS 8's Jake Garegnani, new team CEO Tom Penn said the team would be either "San Diego Football Club" or "Football Club of San Diego". As Penn said, "You heard it here first!"
The team's name and crest will be announced before beginning play in 2025. Soccer fans can reserve their place on the list for season tickets to San Diego's inaugural MLS season by paying $18 at SanDiegoFC.com.
Major League Soccer had passed over San Diego in previous expansions, but this time things are different.
San Diego Wave FC has proven soccer can work here. The women's team packs Snapdragon Stadium for every match. "We're selling out crowds," Defender Kaleigh Riehl said. "We have the best fan base, and I think that's evident now, and I think they've seen that, and so – I mean, there's no better market for a team."
The San Diego Wave, which began play in the National Women's Soccer League in 2022, also plays in Snapdragon Stadium and set a league single-game attendance record of 32,000 against Angel City FC last September.
And the women's team welcomes the men. They know it's great for the city as a whole. "I see the youth game here in San Diego, and it's booming," Wave FC Head Coach Casey Stoney said. "So having male and female role models playing the professional game on your doorstep can only be good."
WATCH: Official announcement that Major League Soccer is coming to San Diego
Original News Source

Click here for San Antonio HOA Management