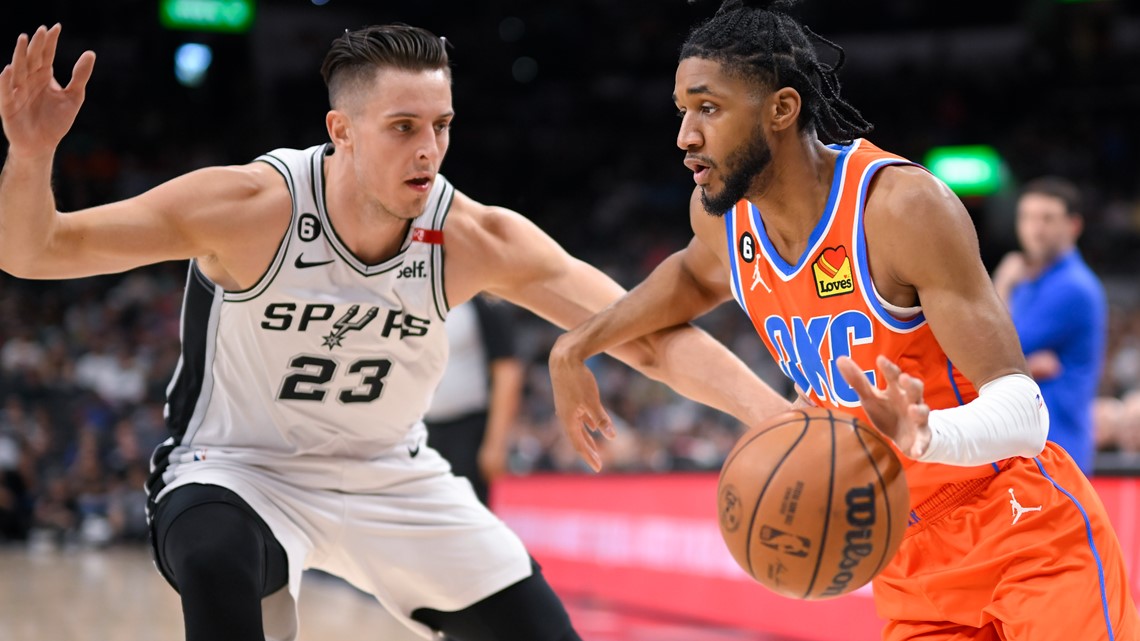 Zach Collins and Devonte' Graham each put up 20+ points, but everyone else hit just 2-20 from three.
SAN ANTONIO — The San Antonio Spurs (17-50) played solid defense on Sunday night, but poor shooting doomed them in a 102-90 loss to the Oklahoma City Thunder.
Zach Collins opened the scoring for San Antonio with a pair of free throws, then he drilled a three from the top. Devonte' Graham started and swished a mid-range pull-up.
Collins got in a bit of foul trouble early, and Charles Bassey came in to spell him. Malaki Branham started slow, with three misses from deep and a turnover. He drove and whipped it to Graham, who pumped in the corner and dribbled once before knocking in a triple to tie it at 10. Branham walked to the locker room shortly after.
Romeo Langford blocked Josh Giddey at the rim, then forced another miss. Doug McDermott got running in transition and spiked down a one-handed jam.
McDermott found Bassey on the roll for a bucket a few trips later.
Sandro Mamukelashvili checked in after his breakout game against the Nuggets and drove for free throws a few times before rolling to the cup and finishing a layup.
OKC closed the quarter on a 7-0 run to build a 29-19 lead.
PHOTOS: Spurs fall to Thunder 102-90
The run continued into the second as the Thunder built a 17-point lead before Vassell canned a jumper and Graham got all the way to the rim in transition.
Collins posted and found Keita Bates-Diop with a nice feed for an and-1.
Branham got back into the game briefly, but then came out for the rest of the game with right shoulder soreness.
McDermott finished an alley oop from Collins, then got it back to the big man with a nice jumper for a layup.
Blake Wesley stripped Lu Dort on a drive, then Collins drew an offensive foul. Wesley made an extra pass to Collins for a three.
McDermott hit a floater, then KBD got a putback. Collins made a slick backdoor pass through traffic to Romeo Langford for a dunk, then KBD dumped it to Collins for an and-1 down low to cut OKC's lead to 7.
McDermott swished a deep three, then Vassell got it to Bassey for an and-1. Vassell stuffed Jalen Williams at the rim, and San Antonio went to the locker room down 52-47.
Collins opened the second half with a nother sweet backdoor pass to KBD, then finished a hook inside. Graham eurostepped in for a layup, then Blake Wesley hit KBD in the corner for a tough triple.
Collins stepped back and sunk another three to tie it up at 59.
In a blink, the Thunder ripped off a 10-0 run. KBD grabbed an offensive board and got it to Graham for three. Graham pulled up in transition for another three to make it a personal 6-0 run.
Collins hit free throws to get up to 20 points on the game, and Mamu came up with a big block. San Antonio struggled with turnovers and fell behind by 10 again.
Mamu drove coast to coast off a board and earned free throws. Wesley pushed the pace and missed a scoop, but Bassey put it back. San Antonio trailed 78-71 heading to the fourth.
Vassell lowered his shoulder and finished an impossible-looking shot as he fell to the ground. He got fouled and nearly hit another.
OKC pushed their lead to 15 bfore an and-1 by KBD.
Collins got mauled on a layup attempt with no call, and Gregg Popovich took a tech to give the officials a piece of his mind.
McDermott hit a floater, then assisted Collins on his fourth triple of the game to cut it to single digits.
Graham stroked his fourth triple of the game, but the Thunder answered and time ran out.
San Antonio fell 102-90, making them 17-50 on the season. Collins led the way with 23 points, 11 boards and 4 assists and Graham added 20, but everyone else shot 2-20 from three in the loss. They'll host Orlando on Tuesday.
The Spurs are coming off a home win versus the West-leading Nuggets, 128-120.
Keldon Johnson had 23 points and eight rebounds to lead the team while Doug McDermott added 20 points. Jeremy Sochan finished with 19 points and eight rebounds while Tre Jones recorded 14 points in the loss.
Zach Collins was ejected from the game after an altercation with Denver's Michael Porter Jr.
"It felt great, the fans were really into it. We put them [fans] to sleep in the first quarter but then we woke them up," Gregg Popovich said. "It was great to have all those people there yelling and screaming, they deserve to have a good night. We don't get into the paint, you don't get those 31 assists."
The Spurs will be in their Association Edition jerseys today.
1. The Spurs have won two straight at home versus Oklahoma City.
2. The Spurs are 4-16 at home versus West teams this season.
3. In their last three games, the Spurs have recorded fewer turnovers than their opponents.
4. The Spurs are 8-23 versus teams with a below .500 record this season.
5. The Thunder are 17-10 versus teams with a sub-.500 record this season.
Stay here at KENS 5 throughout the season for complete Spurs coverage.