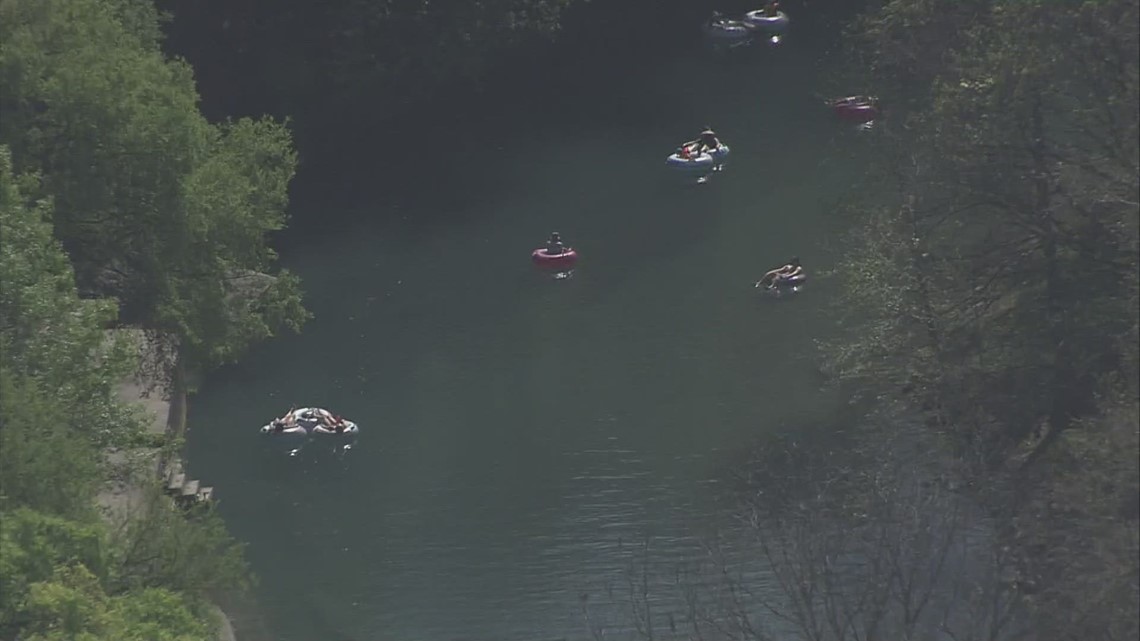 The owner of one tube rental business said people are more likely to jump in the water if they traveled a longer way to get there.
NEW BRAUNFELS, Texas — A chilly start to Spring Break 2023 made for a tepid showing of tubers on the Comal River Monday, but according to the owner of Texas Tubes, it's not the end of the world if Spring Break business is a little chilly.
According to playinnewbraunfels.com, tourism is a $700 million industry for New Braunfels. One of the big draws is tubing the Comal River.
Temperatures stayed just shy of seventy degrees Monday in New Braunfels, so drifting down the Comal River came with an ample supply of elbow room.
"We probably out there for like about 3 hours," said Jayden Widener. "It honestly was not bad. The water's a lot warmer than what it is actually outside."
Widener drove six hours to spend time in New Braunfels, which, according to Texas Tubes owner Coley Reno, is common.
I've had people this morning from Oklahoma City, I've had people from Weatherford, I've had people from Stephenville. Reno said.
He said people are braver about going in the water if they came a long way.
"The weather during spring break is always susceptible to change very quickly," said reno.
"We had sunny and 85 over the weekend. Today, you get up, it's a high of 69."
Reno said the real busy season is in July, so it doesn't bother him seeing people outside the water as long as they're enjoying the outdoors.
"Especially after all the COVID stuff, it's always a pleasure to see people that'll get out, have a good time and get on the river and sit by the river and enjoy," Reno said.
He did say that if you are looking for a more peaceful float down the river, March and April are the times to come.
"If you want to come and be alone, this is the time to come. March, April, even on Sunny days," Reno said. "It's nothing like the summer when in March and April it starts picking up in April into May."
In the meantime, he said what the Comal really needs is rain to ease the ongoing drought.
"The rain is what we float on, you know, and so we need the rain," Reno said. "I think it would boost us through the rest of the summer with some good flow rates, and a lot of good sunshine, a lot of good business."
[embedded content]