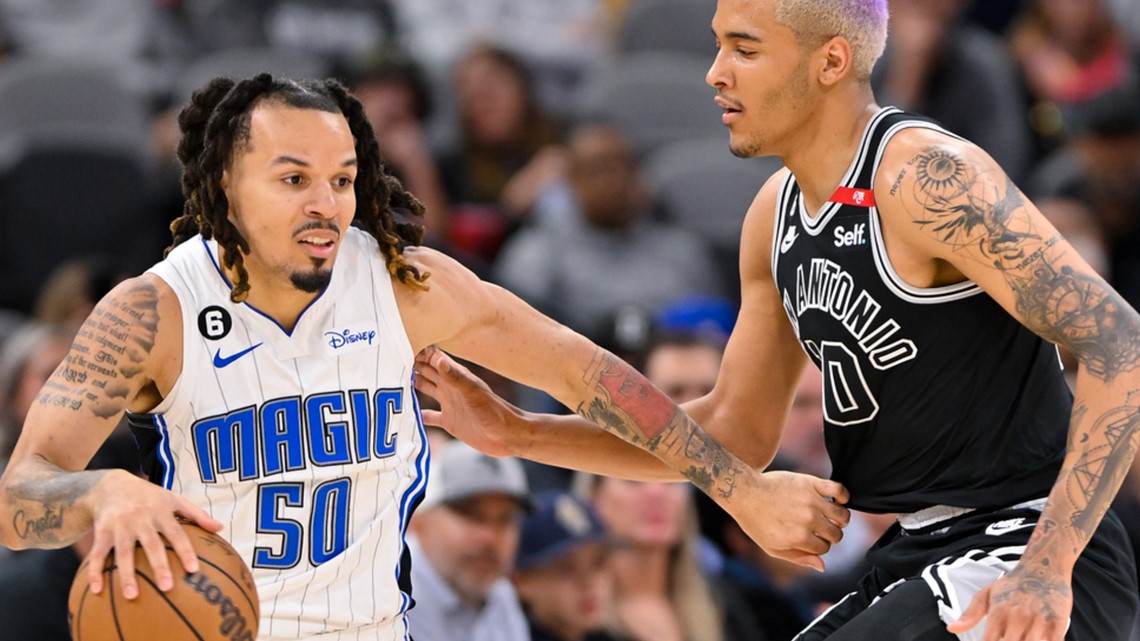 "I feel like everyone showed up not only offensively but defensively too," Jeremy Sochan on the win over Orlando.
SAN ANTONIO — The San Antonio Spurs picked up a home win versus the Orlando Magic, winning 132-114.
Jeremy Sochan had 29 points and 11 rebounds to lead the team while Zach Collins added 25 points. Doug McDermott finished with 15 points and two rebounds while Devin Vassell had 10 points in the win.
San Antonio also connected on a franchise-record 22 three-pointers made.
Charles Bassey exited the game due to a left knee injury.
The Spurs were without Keldon Johnson, Malaki Branham, Romeo Langford, and Tre Jones due to injuries.
The Spurs are now 18-50 on the season, and will next face the Dallas Mavericks Wednesday night in San Antonio.
Here's a sample of what the teams said after the game courtesy of the Spurs.
"A lot of guys played well. Zach [Collins] and Jeremy [Sochan] were outstanding. They were special tonight," Gregg Popovich said. "If you make 22 threes you are going to have a pretty good night. That's just how the rules are. We don't do that very often, but we did it tonight. It was fun to watch. More importantly, we had 39 assists."
"As a team, we played really well. I feel like everyone showed up not only offensively but defensively too. We had a bunch of runs and it was just fun basketball. It was really good," Sochan said. "If you play on that side of the court [defense] a lot of things are going to come to you easily."
"I think we were moving the ball a lot. We were moving the ball. I thought we got to the paint and got a lot of shots," Vassell said. "That's just how we got to play. That's really the Spurs' way. Moving the ball and getting great shots."
"I want to keep it like this. It feels great," McDermott said. "We've had a lot of injuries this year. A lot of guys had opportunities and they all stepped in and they know how to play. Pop [Popovich] and the staff preach unselfishness."
Head coach Jamahl Mosley and Paolo Banchero
Original News Source

Click here for San Antonio HOA Management