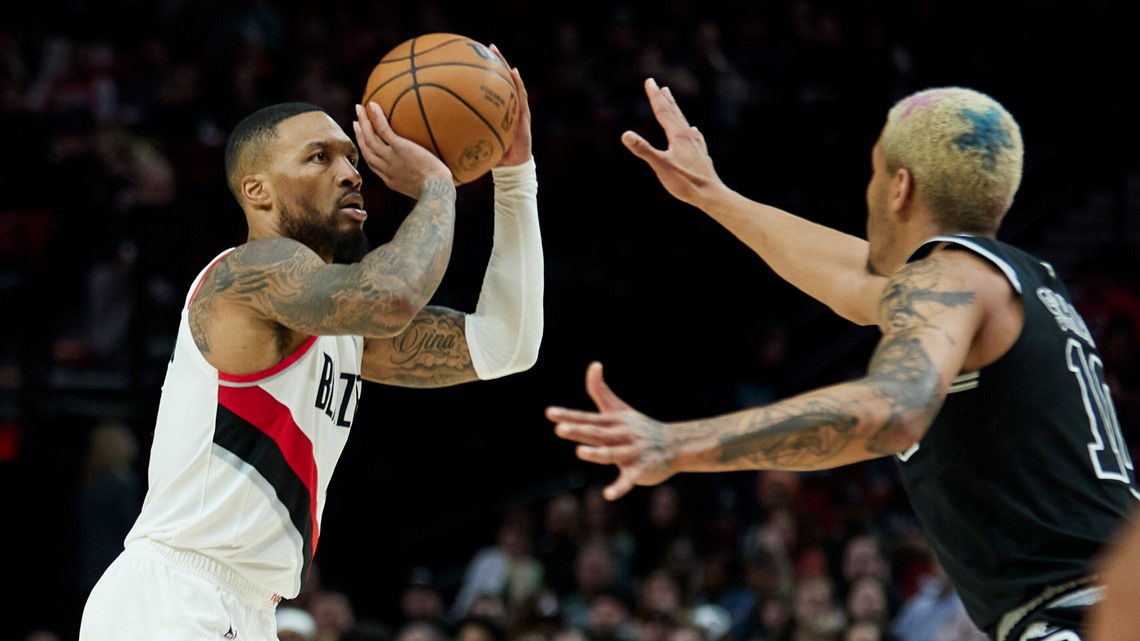 San Antonio's offense kept up in the first half, but Portland just kept scoring to turn it into a 147-127 blowout.
SAN ANTONIO — The San Antonio Spurs (14-33) came out on the short end of a shootout in Portland 147-127.
Damian Lillard exploded for 37 points and 12 assists in the blowout, and the Trail Blazers scored 45 in the third quarter to take control of a game that had been close until that point. This was the most points given up all year by the Spurs, who have been the NBA's worst defense to this point.
Keldon Johnson had 20 to lead eight Spurs in double figures. Jeremy Sochan scored 18 points in another encouraging offensive performance. The rookie hit both of his attempts from three, making it over 31% since he switched to a one-handed free throw. San Antonio shot a blistering 13-27 from deep in this game, but Portland went 20-33. The other big difference was that Portland scored 24 points off of 15 turnovers by the Spurs.
San Antonio will finish this three-game road trip on Wednesday and Thursday in Los Angeles with games against the Lakers and Clippers.
The Spurs are coming off a 131-126 loss versus the Clippers.
Keldon Johnson had 23 points and three rebounds to lead the team while Jeremy Sochan added 16 points. Zach Collins finished with 17 points and four rebounds while Josh Richardson recorded 17 points and four assists in the loss.
"It sucks to lose though. We're trying to win games. We put ourselves in positions to win games most of the time. Obviously, they [Clippers] are a very talented team. They got guys who can score," Collins said. "We had a chance to win so that's definitely a positive."
"The team, I thought, they were spectacular," Gregg Popovich said. "They never give in. They're playing more physically than they have all year. They're assisting. Playing with each other and playing the right way. Those guys [Clippers] made shots down the stretch. At times that's the difference."
The Spurs will be in their Classic Edition jerseys today.
1. The Blazers have four consecutive games with more free throws made than their opponent.
2. The Blazers are 10-3 at home when leading after the third period.
3. In 29 career games against San Antonio, Portland's Damian Lillard has scored 30-plus points 10 times, including three of the last four matchups.
4. The Spurs are on a seven-game road losing streak.
5. The Spurs are winless this season when trailing after the third period.
Stay here at KENS 5 throughout the season for complete Spurs coverage.