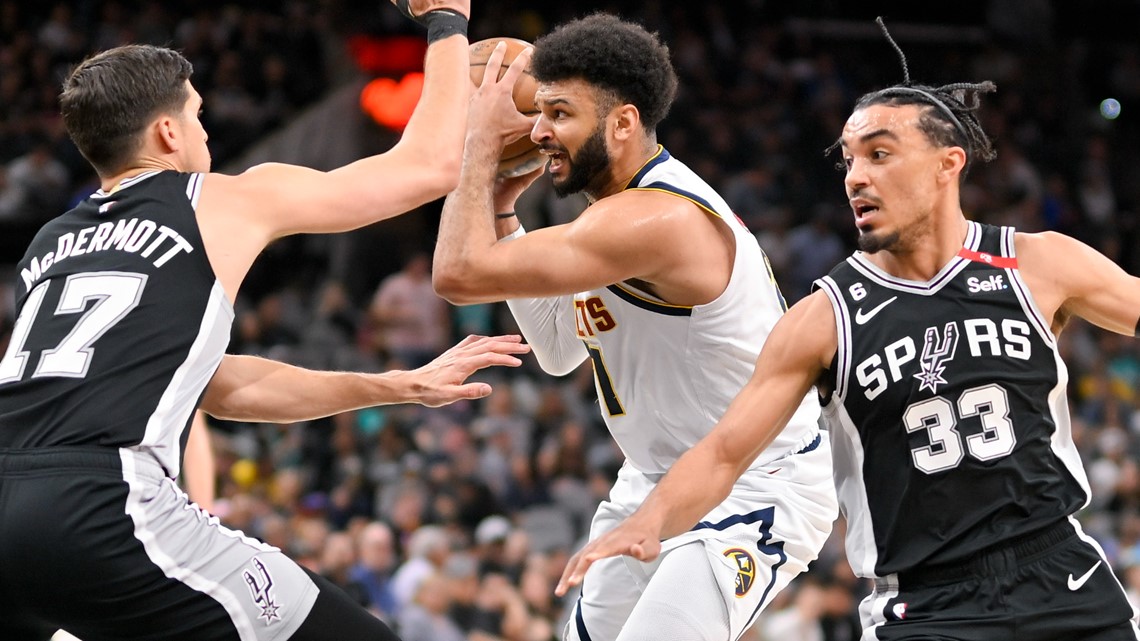 Keldon led the way with 23 points, Zach Collins got in a scrap, and Sandro Mamukelashvili had 11 points in the fourth quarter to seal the win.
SAN ANTONIO — The San Antonio Spurs hosted the West-leading Denver Nuggets on Friday night, and outscored them 102-82 in the last three quarters to secure their most impressive win of the year.
Denver came out like they were annoyed about their previous loss and ran out to an early lead. Jeremy Sochan, hair looking like a grape snow cone, finished three creative layups inside.
Devin Vassell hit that spinning stepback Penny Hardaway popularized, and Keldon Johnson got to the cup for a finger roll.
San Antonio coughed the ball up far too much, and Denver built a 14-point lead. Sochan drove in pick and roll and swished a pull-up jumper while fading. Keldon lost control on a drive, but Doug McDermott picked it up and crammed it home.
Tre Jones drove and flipped it in through a foul, then Keldon drove for an and-1 as well. McBuckets hit a three, but Nikola Jokic just kept showing why he's probably going to be the MVP for the third year in a row. San Antonio trailed 38-26 after one.
Keita Bates-Diop grabbed an offensive board and popped it in. McDermott drove to the rack for a layup, then got fouled on an attempt from deep. He missed his next layup, but Zach Collins cleaned up the glass and cut Denver's lead to 7, forcing a timeout.
Malaki Branham drove and found Sochan cutting for a layup, then Branham got it up court to McDermott for another driving score. Sochan whipped it to the corner where Vassell swished a three.
Branham made a strong move and missed, but Charles Bassey cleaned up the mess. Keldon drove strong for another three-point play, then found Bassey on the baseline to make it a 7-0 run and a two-point game.
Jones dribbled methodically, went under the basket, out of the paint, and back in for a layup. Then he scooped a pass to Keldon, who made it a one-point game.
Denver pushed back, then Vassell hit Keldon in the corner for three.
McDermott swished one, then another to tie it up at 63. McDermott got it right back to Keldon in the corner for San Antonio's first lead of the game.
The Spurs were ahead 68-67 at halftime.
Sochan picked up where he left off, bullying his way inside for a score. Collins got a layup, then Keldon took it right at Jokic and forced an early timeout.
Branham drove and kissed it off the glass, then he grabbed a loose ball that Keldon forced and got it to Vassell for a pull-up three in transition.
Collins drilled a three from the top, then Sochan popped in a putback to give the Spurs their largest lead of the game at eight points.
Michael Porter Jr. crammed a poster over Collins and talked some trash, and Collins didn't take too kindly to it. He got in Porter's face, and Porter didn't seem to like that either so he pushed him away in the throat region. Both were thrown out of the game, leaving Charles Bassey to check Jokic.
That dunk started a 7-0 run for Denver and forced a timeout by Pop. Keldon stopped the bleeding with some free throws, then hit McDermott for yet another three.
Jones hit a jumper, then KBD got it back after a block for a dunk, and Jones swished again as the teams went back and forth. Jones threw a jump pass to Bates-Diop for a tough layup, and the Spurs were clinging to a 98-93 lead heading to the fourth.
KBD launched a corner three to put the Spurs back up eight. Vassell assisted on that play, then drove baseline and drilled a fadeaway. Sandro Mamukelashvili checked in, pumped at the arc and drove in for a layup to give San Antonio a double-digit lead and force a timeout. He also threw an awesome bounce pass to Vassell backdoor.
Sochan hit a turnaround jumper, but the Nuggets ripped off a 9-2 run to get right back in it.
Sochan drove baseline, spun and whipped it to Mamu at the arc for three. Sochan came up with a huge block, and when he missed his next attempt Mamu tipped it back in.
Keldon hit another triple, but the Nuggets put up a 10-3 run around it. Tre Jones hit a floater, then Sochan drew a double and kicked it to Mamu for three more.
After a Denver miss, Jones found a streaking Sochan for a tough layup through the foul. Vassell went at Jokic and laid it up and in to make it a 10-0 run that put the Spurs up a dozen.
San Antonio held on and beat the West's best team 128-120.
Keldon led the way with 23 points, McDermott added 20, Sochan kicked in 19, and Mamukelashvili scored 11 points in the fourth to help seal the best win of San Antonio's season.
The Spurs are now 17-49, and their homestand continues Sunday with a matchup against the Thunder.
The Spurs are coming off a home loss versus the Rockets, 142-110.
Keita Bates-Diop had 17 points and one rebound to lead the team while Charles Bassey added 14 points. Devonte Graham finished with 14 points and two rebounds while Devin Vassell recorded 13 points in the loss.
The Spurs were without Jeremy Sochan, Romeo Langford, Doug McDermott, Tre Jones, and Zach Collins due to injuries.
"The Rockets drove the ball. They were just really aggressive. Had us on our heels all night long," Gregg Popovich said. "I thought Houston is a really good, physical, strong team. They're energetic. They're aggressive. They deserve to win the game."
The Spurs will be in their Icon Edition jerseys today.
1. The Spurs have lost two straight versus the Denver Nuggets.
2. Sharing is not caring. The Spurs are 1-30 when recording fewer assists than their opponent this season.
3. Where's the defense? The Spurs are allowing 121.0 points per game in their last three games.
4. The Nuggets have recorded more assists than their opponents in five straight games.
5. Look out Spurs! The Nuggets are 25-9 versus teams with a below .500 record this season.
Stay here at KENS 5 throughout the season for complete Spurs coverage.