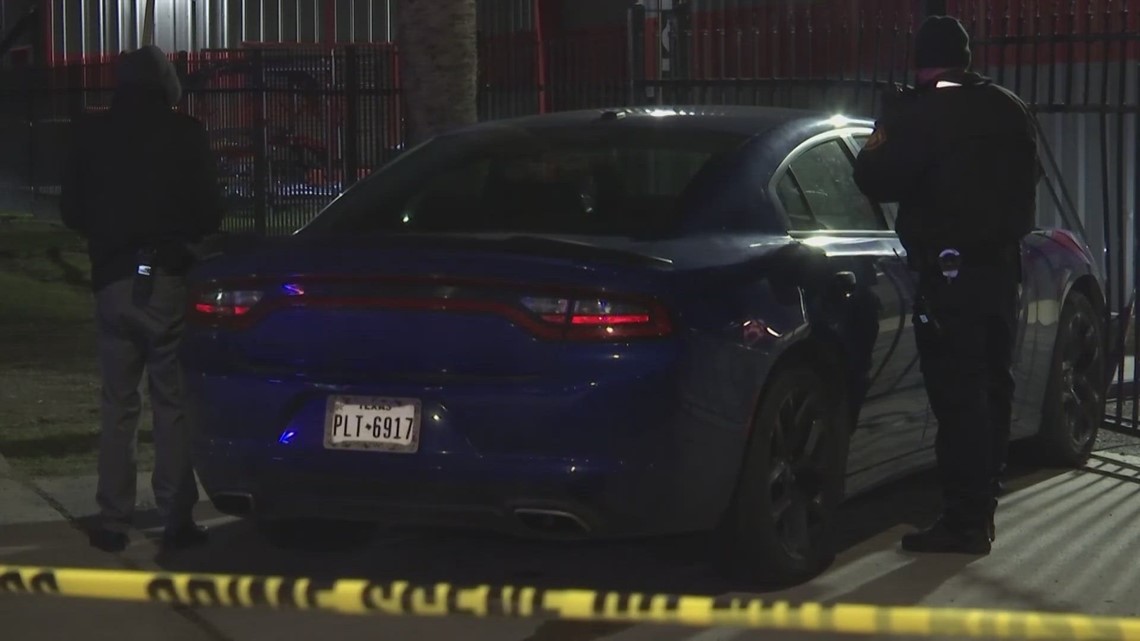 The SAPD officer owned the car that was stolen, and was off duty when police say he tracked the car down and fired a gun at it.
SAN ANTONIO — A teenager who admitted to a carjacking last fall on Pearsall Road was in court Tuesday in a case that has an unusual twist.
The owner of the car in question is indefinitely suspended San Antonio Police Officer Miguel Leal, who is now facing discipline related to his off duty actions in recovering his stolen vehicle.
18-year-old Jimmy Murillo accepted a plea deal on an aggravated robbery charge.
Judge Jefferson Moore delivered an eight-year sentence with an affirmative finding that Murillo used a deadly weapon during the attack, so he will have to serve at least half of his sentence before he would become eligible for parole.
Court documents indicate the robbery took place last November when the officer's son was walking out of an auto parts store. The young victim told police Murillo put a gun to his head and demanded the keys to his father's late model Dodge Charger. The teen told detectives he complied and watched Murillo speed away.
Leal told investigating officers when he learned of the robbery, even though he was off duty, he borrowed a car and took to the streets in the area looking for his stolen vehicle.
His version of the story is that when he found his car at the intersection of Military and Whitewood, he got out of his car with his weapon drawn and ordered the driver to stop. Leal told investigators he was afraid for his life because he thought Murillo was trying to run him down.
There are sworn statements in the court file from two witnesses who told investigators they thought Murillo wasn't threatening Leal, that he appeared to be swerving away from the officer to avoid getting shot.
Nevertheless, Leal admitted to detectives that he fired one shot into his car as it sped by.
Reports indicate Murillo lost control of the vehicle a few blocks away and crashed into a fence, then tried to run away. He was captured after a short foot chase and police said did find the weapon in the car that had been used in the robbery.
Adam Flores is Murillo's attorney.
"They did give him a reasonable offer and he accepted responsibility for what he did but he is asking the system to accept justice for Miguel Leal too, to be accountable for what he did too," Flores said.
"They both did wrong. You can't pursue a vehicle in your own personal vehicle, off duty, shooting at a moving vehicle," Flores said. "There are witnesses that saw what happened and they did corroborate his story that his intent was not to run the officer over."
Flores called engaging in an off duty pursuit a conflict of interest.
"Even though he is a police officer, he should have let the officers on duty do their legal duty and do their job. He had no reason to pursue him," Flores said. "It is a vigilante kind of act and he had no reason to shoot him. I question why Miguel Leal was not arrested like the officer was arrested at McDonalds."
The attorney compared this incident to a shooting in the parking lot of a McDonald's restaurant on Blanco Road last October. In that incident, Officer James Brennand can be seen on body worn camera video firing ten rounds at a 17-year-old who appeared to be sitting in his car eating a hamburger.
Erik Cantu was shot multiple times. Several days later, police released the footage of the incident and the video quickly made national headlines. At the time, Police Chief William McManus said the video was horrific and called the shooting unjustified.
In the aftermath, Brennand was fired and charged with two counts of aggravated assault by a public servant. He is free on bond and online records indicate his next court setting is scheduled for June 9 in the 437th District Court.
With regard to discipline for Leal, McManus served the 11-year veteran officer with an indefinite suspension, effective March 21, 2023. A letter of appeal from Leal was filed the very next day.
The process for arbitration is outlined in the Collective Bargaining Agreement between the city and the San Antonio Police Officers Association. The 218-page document devotes about five single-spaced pages to disciplinary procedures. In brief, the contract calls for the selection of an independent arbitrator to settle the dispute and decide if the punishment in a case is just. Depending on administrative and criminal factors, a liaison for the Civil Service Commission said the arbitration process could drag on for months, if not years.
An SAPD spokesman said the Leal case has been forwarded to the office of the District Attorney, where they are conducting their own investigation, adding police sent the case without recommending any criminal findings.
KENS 5 reached out to the District Attorney for a status update on their investigation and are awaiting a response.
Police said while their investigation was underway, Leal remained on administrative duty, but he will now remain suspended throughout the appeals process.
[embedded content]
Original News Source

Running For Office? Conservative Campaign Management – Election Day Strategies!