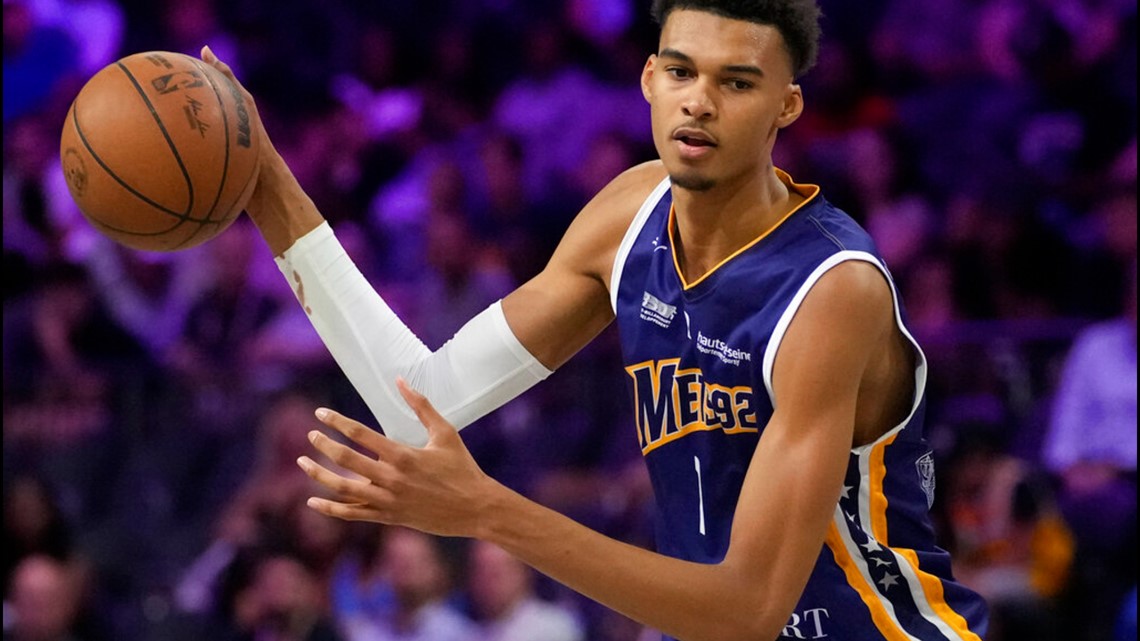 Even the Wembanyama redemption basketball cards are going for thousands of dollars.
SAN ANTONIO — French basketball megastar Victor Wembanyama is set to take the NBA by storm.
His games with French team the Metropolitans 92 are streamed on the NBA app and he is set to be featured in a star-studded lineup for the first NBA Con this summer.
And he is not even officially in the NBA yet!
"Wemby-fever" is taking hold in the basketball world and it goes without saying his basketball cards will likely fetch a hefty price tag especially if it has his signature.
Bowman University Inception cards usually release college player basketball cards, including autograph cards and autograph relic cards.
However, the 2022-23 Bowman University Inception Multi-Sport Hobby Box will be headlined by the first officially licensed Wembanyama trading cards.
Redemption cards are to secure Wembanyama's Metropolitans 92 autographed cards from this release and are going for an insane amount of money at auction.
On eBay, one listing has a Wembanyama redemption gold-based, autographed card priced at $23,9999.00.
Another has a base redemption card at over $4,000.
Even his 2023 Sports Illustrated for Kids card is going for $25,000 at auction.
And if Wembanyama does prove to be a once-in-a-lifetime player, then his card is likely to sky-rocket in price.
Recently, Fanatics CEO Michael Rubin shared photos of the first basketball card with an official signature by the 19-year-old.
In fact, Wembanyama even added a note on the card that the card is indeed the first card he's ever signed.
On a recent episode of Locked On Spurs, San Antonio-based trading card guru Joshua Cook spoke about how Wembanyama cards have not spiked in price. He said the market is in a holding pattern to see if he does turn out to be the generational-type player many expect he will become.
If he does, then his cards will likely rise in price depending on condition, rarity, and if it is autographed.
Card collecting is immensely popular and cards can go for thousands of dollars if you have the right ones and Wembanyama's rookie card will be in high demand.
The San Antonio Spurs hold the No. 1 pick in the upcoming 2023 NBA Draft. Should the Spurs select him (which they obviously will), NBA fans will make a mad dash to get a box of cards hoping to pull a rare Wembanyama Spurs rookie card.
Original News Source

Click here for San Antonio HOA Management