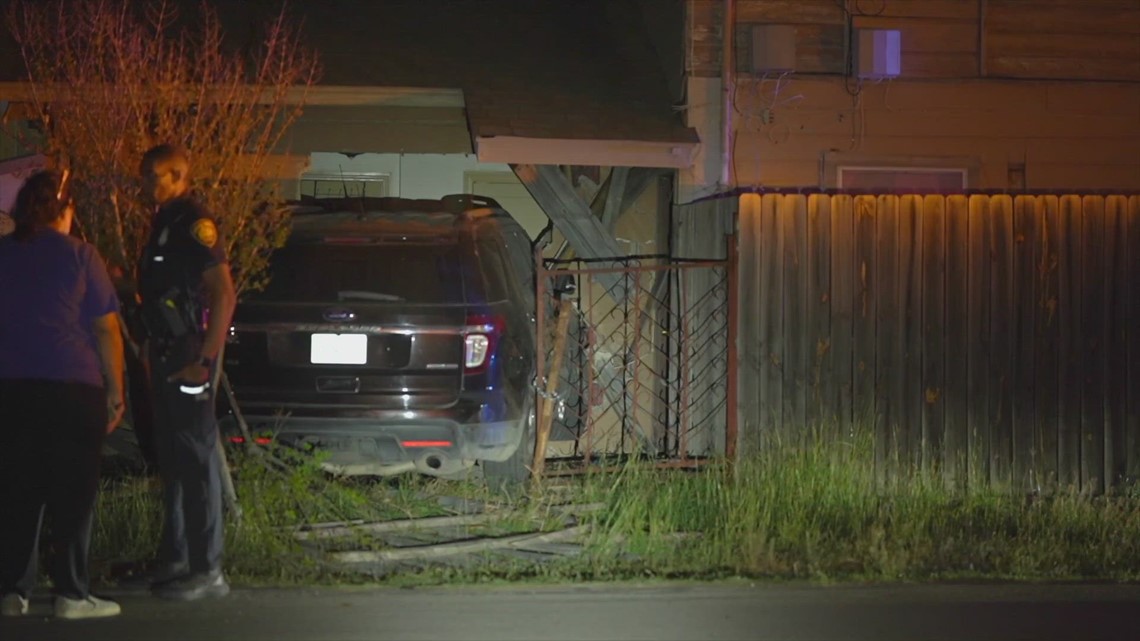 The girl was treated and released from the hospital, and her father hopes the couple who crashed into their home faces justice.
Dad Archie Deorsett said "That's my daughter's life there!" talking about the driver who lost control of his SUV and crashed all the way through the wall of a home on Drury Lane in south San Antonio about midnight Sunday.
Deorsett said he went to the store for snacks and he was surprised to see emergency vehicles racing past him as he returned home.
He said he was even more shocked when he found them at his own house.
"I went and then I saw the police, ambulance coming, passing through me. As I was going home I noticed they were parked at my house. I got out. I saw the whole vehicle inside my daughter's room," Deorsett said, adding "She's okay, thanks to God."
Deorsett said the girl was checked out by medical personnel on scene but after they left, the family decided it would be safer to have a more extensive check up and took her to a hospital. Deorsett said she was released to return home around 5 a.m., which left her exhausted.
"She stutters when she talks," he said about her ordeal.
Deorsett said now that his daughter is recovering, he hopes the couple in the car will face consequences for their actions. He said police told him the couple had been arguing as they drove down the street and it was the disagreement that led to the crash.
"Everybody's got to pay. The law should be doing something about it. Not everybody gets treated the same. I hope they get treated the same," Deorsett said, adding "They came here. They crashed here. They were fighting. That's domestic violence."
Initially, police said the driver ran from the crash, but he was taken into custody a few block away. Police said the driver is facing a charge of failure to stop and give information. His name was not released so charge and bond information is not available at this time.
Monday afternoon, the gaping hole in the home had been closed by sheets of plywood. Large cracks in the cinder block walls may provide more of a challenge to repair. The family said they were grateful the landlord took immediate steps to secure the structure.
[embedded content]