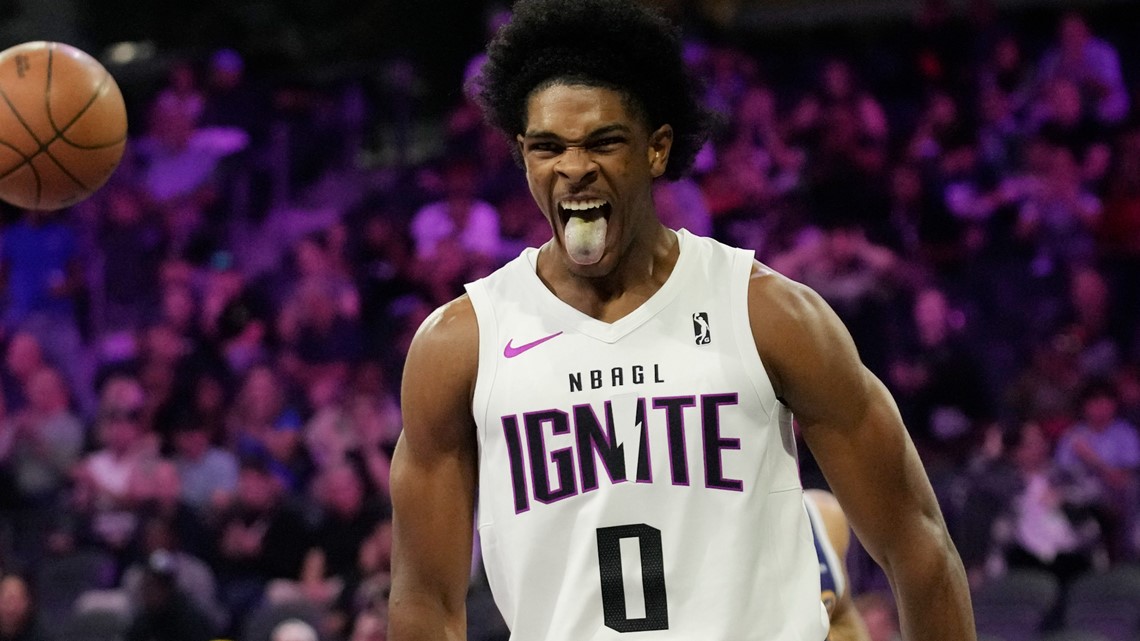 It's unlikely, and risky, and greedy, but pairing Wembanyama with a guy like Scoot Henderson or Amen Thompson could be special.
SAN ANTONIO — Disclaimer: This is one option for the San Antonio Spurs as they build the roster around Victor Wembanyama. Everything here is a hypothetical course of action the Spurs could consider. For the start of the full choose your own adventure game, click here.
You have decided to trade quality pick(s) and player(s) to get into the top 5.
Analysis: Wow, you crazy son of a gun, you did it.
You said half measures are for cowards and you hit the big red button to pull off a blockbuster that instantly gives your team the scariest pair of 19-year-old teammates in NBA history.
Houston Texans fans are getting déjà vu.
The Spurs have been flipping quality players and stacking trade chips since Kawhi forced his way out, and they've been waiting to be dealt a hand that they can confidently double down on. Getting Wembanyama in the draft has you ready to immediately go all in on a tantalizing but unproven rookie to pair with him.
It's a confident leap in a direction that's full of inexperience and uncertainty, and it came at a price. One or maybe both of Keldon Johnson and Devin Vassell are out the door, possibly another player or two, and you had to part with multiple valuable first-round picks to get this to work.
You're hoping your rookies reach their All-Star potential as quickly as possible and building around that tandem.
If Portland wants to deal the third pick and win now around Damian Lillard, they'll need valuable players, the same for Detroit at five. That would mean Keldon Johnson, Devin Vassell or other young talent heading out. Maybe San Antonio sends picks to a third team that sends additional player(s) to the Blazers or Pistons.
Whether it's Scoot Henderson at 3 or Amen Thompson soon after, the Spurs are getting an elite athlete and downhill creator. They're unselfish players and creative passers with explosive leaping ability, the exact type of lead guard you'd want to pair with an elite pick-and-pop threat like Wemby. They would be expected to start together immediately.
No draft prospect is a sure thing, and San Antonio's rookies would suffer through their growing pains together in a way that would probably hurt them both. Wemby's development would probably go smoother if he had a more experienced floor general feeding him in his spots. If that point guard develops quickly, however, the sky is the limit for the duo and the team around them.
If they both shine it might be difficult to keep both of them into their second contracts, but that's a problem for 2027 you to deal with.
Here's a look at the 10 players on the roster:
PG: Star rookie, Blake Wesley
SG: Malaki Branham, Devonte' Graham
SF: Jeremy Sochan, Doug McDermott
PF: Victor Wembanyama
C: Zach Collins, Charles Bassey, Khem Birch
Cap holds: Tre Jones, Keita Bates-Diop, Sandro Mamukelashvili, Romeo Langford, Dominick Barlow, Julian Champagnie
If you can manage to keep one of Vassell or Johnson in this deal that's a huge plus. If not you're giving up a ton of corporate knowledge and production on the wing.
It looks like you need veteran leadership at the guard spot and depth on the wing. Tre Jones could help without eating too much in terms of money and minutes. Maybe you see about bringing home a former Spur like Cory Joseph, George Hill or Lonnie Walker IV.
Do you try to get a vet like Joe Ingles or Harrison Barnes? Is Jerami Grant available? What about a gamble on Dillon Brooks?
Do you instead try to use expiring contracts, cap space and picks to make a smaller trade for depth and vets?
You've traded a player (or two) that you love and a considerable amount of draft picks, but you still have a decent amount of assets to continue building around two teen stars who will be the engine of the offense and hopefully, eventually, lead San Antonio to titles together.
This accelerates the timeline pretty dramatically at the cost of a considerable amount of assets and flexibility. A big trade for a current star doesn't make sense anymore because you've already given up a lot to go all in on the near future.
There are many ways it can blow up in your face, but if it works out it will be special. It's unlikely, and risky, and disgustingly greedy, and incredibly fun to think about.
To start over, click here.
[embedded content]
Original News Source

Click here for San Antonio HOA Management