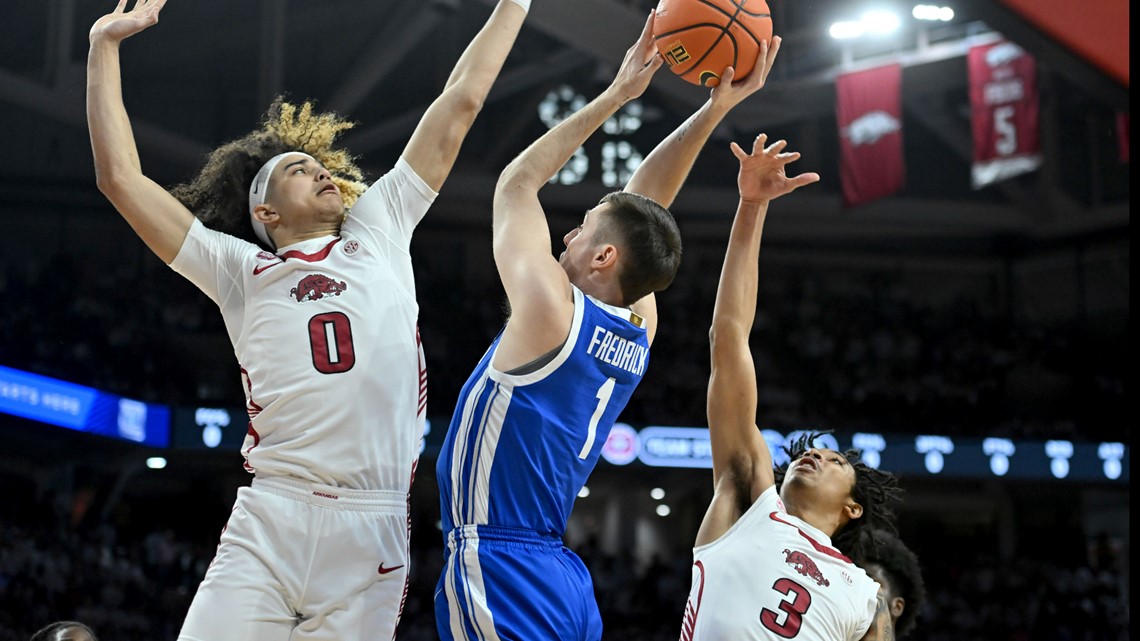 San Antonio has plenty of future picks and other assets, and rumor has it they're looking to grab another high-level talent in the 2023 lottery.
SAN ANTONIO — Disclaimer: This is one option for the San Antonio Spurs as they build the roster around Victor Wembanyama. Everything here is a hypothetical course of action the Spurs could consider. For the start of the full choose your own adventure game, click here.
You have decided to trade pick(s) and/or other assets to move into the 6-14 range.
Analysis: Now you're cooking with gas.
You're double dipping in the lottery, trading something of value to move up for a guy who should play a bit this year and maybe even grow into a future star.
In some scenarios you gave up a good second rounder or two this year and future first(s), but kept the roster intact while consolidating draft assets and adding talent and potential. In others you parted with a veteran on a valuable expiring contract in addition to some draft capital.
It seems unlikely that the Spurs would part with Keldon Johnson or Devin Vassell to do this. That would sacrifice a young starter with tons of potential for a rookie who won't replace that production and might not pan out at all. It would make Blake Wesley a bit more expendable, maybe he's included in this sort of deal.
Reports indicate that San Antonio is keen on moving up, and that makes a lot of sense. They did a ton of scouting before the lottery for the 86% of possible universes where Wembanyama went somewhere else. Maybe they really fell in love with someone who they want a lot more than they want a couple of first rounders a few years from now.
A couple of quality picks might be enough to get into the middle of the first round of 2023, where a guy like Nick Smith, Keyonte George or Cason Wallace could be available.
Going up into the top 10 for Anthony Black, Ausar Thompson or Cam Whitmore would be more expensive, but still could be doable without impacting San Antonio's young core.
This is the move to make when all of those future draft picks are burning a hole in your pocket now that Victor Wembanyama is a Spur, but you don't want to blow it all at once. You want to accelerate the timeline without completely flooring it.
You still have cap space and a ton of draft capital, but you've consolidated a chunk of it for a promising young player who can fight for a spot in the rotation immediately.
PG: Devonte' Graham, Blake Wesley (?)
SG: Devin Vassell, Malaki Branham
SF: Keldon Johnson, Doug McDermott
PF: Victor Wembanyama, Jeremy Sochan
C: Zach Collins, Charles Bassey, Khem Birch
Your rookie
Cap holds: Tre Jones, Keita Bates-Diop, Sandro Mamukelashvili, Romeo Langford, Dominick Barlow, Julian Champagnie
The rookie probably isn't your starting point guard and maybe isn't even your backup point guard to start the year, but he could grow into that role quickly. Spending a lot of cap space to bring in a high-level point guard doesn't make a ton of sense, but you still want a veteran who knows the system and can show this kid the ropes and provide depth.
Bringing Tre Jones back seems like the move as long as he doesn't sign an insane offer sheet.
Veterans like Patrick Beverly or Dennis Schröder could be interesting to add here at the guard spot, and Kevin Love and Bismack Biyombo might be worth a look as well. Naz Reid could provide excellent center depth if the price is right.
You still have plenty of flexibility to improve the roster immediately and build for the future. Even though you haven't added much outside of the rookies, they join a young team that continues to learn and grow together. With good health making the play-in is much more attainable.
The right veteran additions could really help with both that goal and the overall goal of long-term development, and you could look for a smaller trade to help with that. A bigger trade for an established star is still on the table.
To start over, click here.
[embedded content]
Original News Source

Click here for San Antonio HOA Management