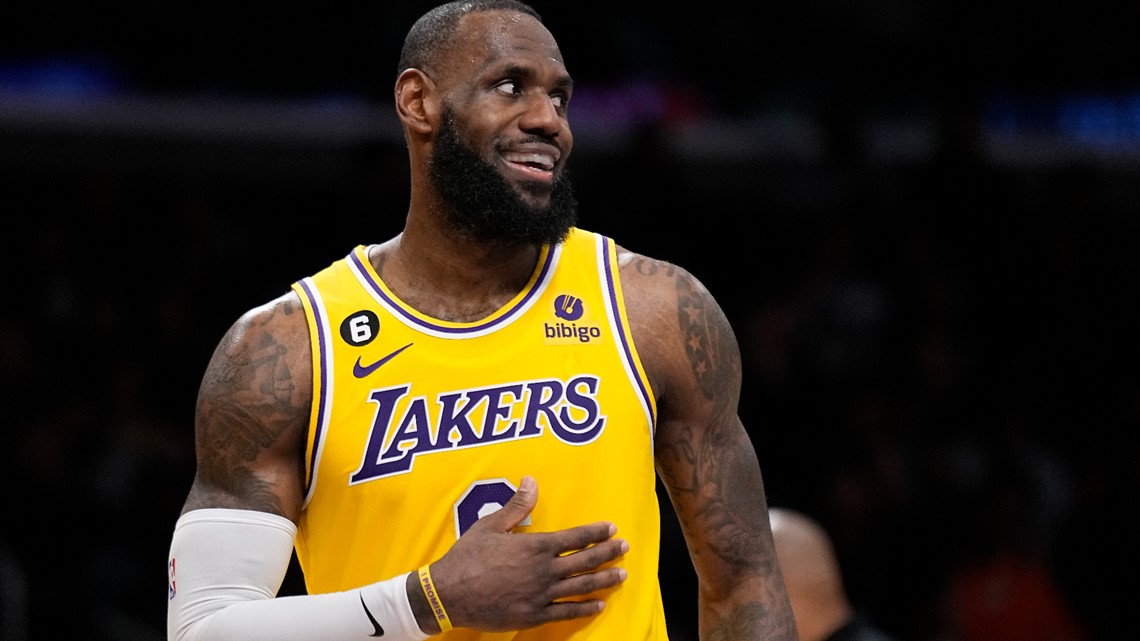 LeBron James reached No. 1 on the all-time NBA scoring list on Tuesday night in Los Angeles, passing Kareem Adul-Jabbar, who set the record in 1989.
LOS ANGELES — In the 20th season of his storied career, LeBron James on Tuesday night moved to No. 1 on the NBA's all-time scoring list, passing the legendary Kareem Abdul-Jabbar and adding one of the most hallowed records in the history of the league to his already unprecedented resume.
James hit a step back jumper late in the third quarter for his 36th points of the game in the Lakers game at home against the Thunder to claim the record he has spent the past several weeks — if not his entire career — chasing.
After passing Karl Malone and moving to No. 2 all-time last March, James averaged 30.0 points per game (seventh in the NBA this season) in his mostly healthy 20th year thus far to exceed Abdul-Jabbar's historic mark of 38,387 points, set in 1989 upon his retirement.
James' time as a Laker, the franchise that has employed more than half of the top 10 all-time scorers including Malone and Abdul-Jabbar, has been marked by his climb to No. 1. James passed the legendary Michael Jordan in the spring of his first season as a Laker, then surpassed Hall of Famer and franchise icon Kobe Bryant in January 2020, with Bryant in attendance in Los Angeles shortly before a tragic accident took his life the following month.
With Carmelo Anthony unsigned this season, no other active NBA player is in the top 10 in NBA scoring history aside from James.
LeBron James entered the league in 2003 as the No. 1 overall pick, selected by the Cleveland Cavaliers. He's since been a 4-time NBA champion, 4-time NBA MVP, 4-time NBA Finals MVP, a 19-time All-Star and a 13-time NBA All-Pro First-Team Selection.
As for whether 38-year-old James will decide to hang them up following the season, he's reiterated his desire to share the floor in the NBA with his son, Bronny James, before doing so. Bronny James is a senior at Sierra Canyon High School in Los Angeles.
His play hasn't slowed. James is still averaging over 30 points per game in his 20th season.
In addition to holding the scoring record, James is currently fourth in league history in assists, 32nd in rebounds, ninth in steals, ninth in three-pointers made, fourth in free-throws made, and even first in turnovers. He made the NBA 75 list in 2022 and will start the All-Star game later this month, his 19th All-Star appearance.
The Lakers remain in the heat of the Western Conference playoff race, buoyed by James' incredible January, in which he averaged nearly 34 points per game with the scoring record in sight