The 7'5″ Frenchman isn't even technically a Spur yet, but fans and small businesses are already making custom t-shirts and santo candles.
SAN ANTONIO — There's been pure elation these past 24 hours for Spurs fans. Emotions are still riding high following Tuesday night's number one NBA lottery pick.
"It felt like we were a championship city, just like we are," said Zchicel Trevino, a Spurs fan dining at Rudy's Seafood, who took photos in front of their Victor Wembanyama — or 'Wemby' — mural.
In true San Antonio fashion, the Wemby merch is already flying off the shelves.
KENS 5 checked out the 'Santo Wemby' candles and shirt vendors making bank Wednesday.
The second the Spurs landed the number one pick, all eyes were on 19-year-old Victor Wembanyama. In fact, the moment the number two pick was called, local crafters fired up the print machine.
"I thought it was so crazy," said Spurs fan Mia Trevino following San Antonio winning the number one draft pick. "It was so amazing."
Tuesday night's fandom was somewhat reminiscent of a Spurs playoff win. Many fans drove down Commerce Street downtown to go honking, just like old times.
"I started screaming, high-fiving and opened up some French wine, some champagne," said Zchicel. "We did it all. Then we came up here [to Rudy's]!"
"When's the last time you think Spurs Nation has been this excited?" we asked Spurs fan, Jennifer Gonzales, who also paid a visit to the Wemby mural.
"I don't know! I really don't know, but it was our time," she replied. "It was Spurs time!"
Generations of Spurs fans watched together as we landed the third #1 lottery pick in franchise history. David Robinson came first in 1987, then Tim Duncan in 1997.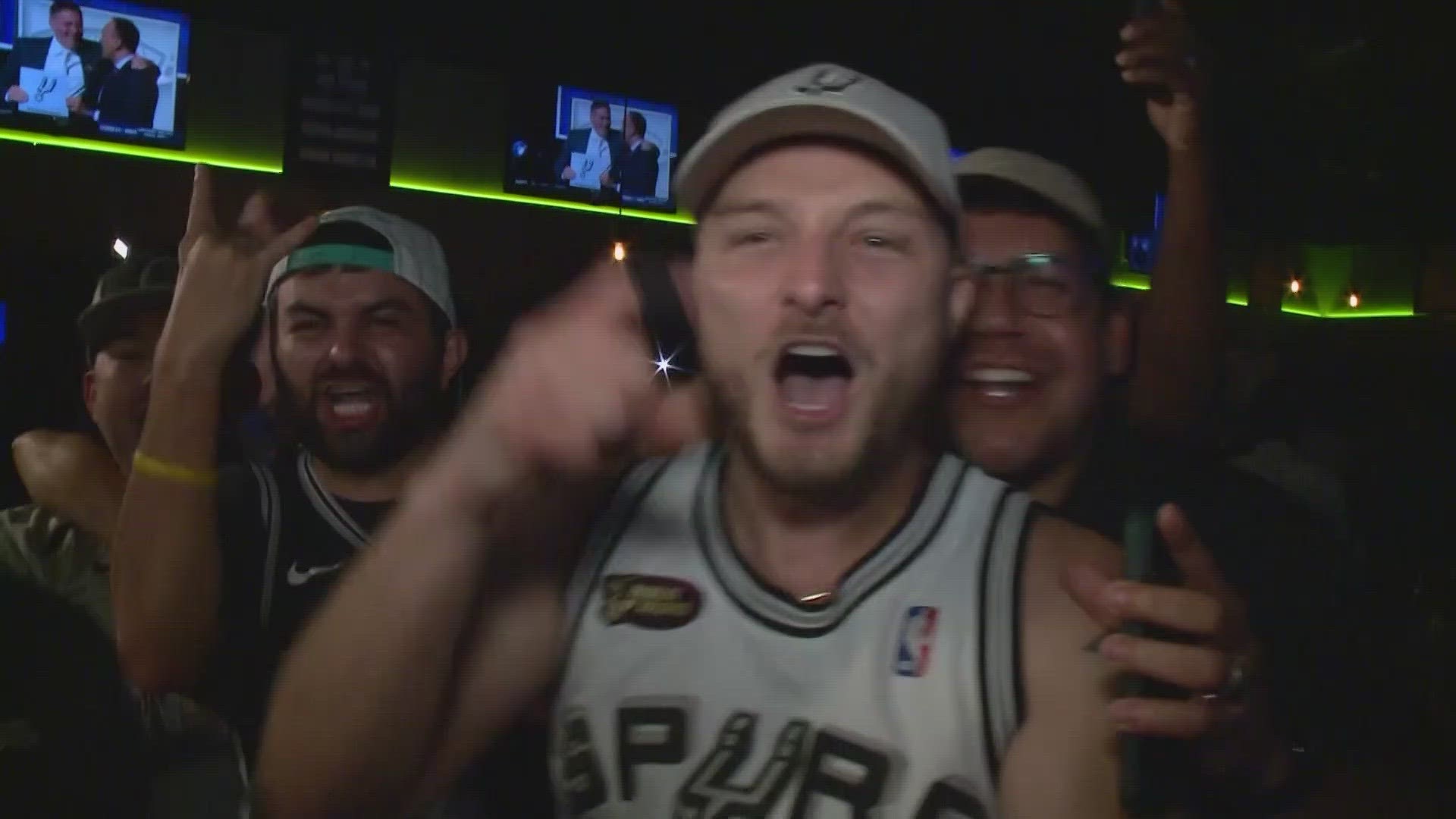 "We were there watching it with my dad and he was just like, 'Man, we were blessed with Tim Duncan. Maybe we can be blessed with this number one pick and get Victor, so we'll see!'," said Spurs fan, Adan Tello. "When it happened, everybody was jumping, everyone was giving high-fives. It was an amazing, amazing night!"
All of a sudden, Spurs fans believe championship number seis seems even closer.
"[Wembanyama] promised us a ring right away as soon as he got here, so we're gonna hold him to that for sure!" said David Galan, who is making
Wednesday, the Wembanyama merchandise hit store shelves.
"We have to do something super San Antonio! We have to create a santo candle. What better one than Wemby because this is such a huge blessing to San Antonio," said Marcie Anguiano, owner of Mission Crafts Chandlery. "It will bring wins in the future and if they're lighting it during the games, [it will hopefully help us] win the games for sure!"
Small businesses are selling candles for good luck. Other fans are selling Wemby t-shirts they made at home.
"I found the design, and I was like that's it. We're gonna put it on a shirt and we're gonna go honking!" said Galan, whose wife, Monica makes the shirts with her t-shirt print pressing machine.
Galan wore his new Wemby t-shirt to Rudy's Seafood Tuesday night to celebrate the good news, and when he did, fans were already inquiring about one for themselves.
"I think even probably the pre-season games are gonna sell out because he may play five minutes, but we still wanna see those five minutes!" said Galan.
It's a revival of the team we love, and the world is taking notice once again.
"What do you think Wemby should do the second he lands in San Antonio?" we asked Tello.
"You gotta go get tacos!" he replied, without hesitation.
If you're interested in buying a Wemby Santo candle, visit www.missionchandlery.com or contact them on social media @MissionCraftsChandlery.
For Wemby t-shirt inquiries, call or text David Galan at 210-782-3182.
[embedded content]
Original News Source

Running For Office? Conservative Campaign Management – Election Day Strategies!